The 2nd US Circuit Court of Appeals yesterday upheld a four year sentence for tax evasion and lying to White House Officials handed down to former New York Police Commissioner Bernard Kerik.
Kerik, 54, who was once selected to head the US Department of Homeland Security, began serving his sentence last year May, after pleading guilty to the federal charges in November, 2009. He appealed the sentence and urged the court to review his claims under a relaxed plain error standard.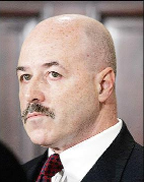 He had submitted that he lacked notice of the two factors aggravating his sentence that asserted manifest procedural error; the publication of articles accusing prosecutors of misconduct and corruption in connection with his prosecution; and his failure to distance himself from these articles.
But the court pointed out that the presentence report and the government's sentencing memorandum provided notice of the facts Kerik cites by discussing his violation of the district court's protective order, characterising a Washington Times article as containing "false and defamatory accusations" about the prosecutors and referencing Kerik's association with Anthony Modafferi, an attorney whom the district court had previously found to operate not as Kerik's legal counsel but as his "chief fundraiser and propagandist."
In the end, appeal court judges Joseph M. Mc Laughlin, Guido Calabresi and Reena Raggi concluded that "an objective observer viewing the whole record would not question the district court's impartiality and, accordingly, we identify no ground for resentencing." They added, "We have considered Kerik's other arguments on appeal and conclude that they are without merit. Accordingly, we affirm the judgment of conviction."
Kerik was hired in February 2007 by the Guyana Government as a security adviser. He was to provide general advisory services to President Bharrat Jagdeo and the Minister of Home Affairs Clement Rohee.
His appointment had been greeted with much criticism, owing to growing allegations about professional misconduct. His contract, which was later ended, was for one year and was said to be renewable. His international security consultancy firm, the Kerik Group, was also contracted to provide its services to Trinidad and Tobago. He had held similar contracts in Jordan, Iraq and other Middle Eastern hotspots.
As head of the New York City's police force, Kerik had worked closely with former Mayor Rudolph Giuliani, including in the response to the September 11, 2001 attack. A former police detective and once Giuliani's driver, he headed the New York City jail system before taking charge of the police department in 2000. His career began to unravel during background checks when former President George W. Bush nominated him in 2004 to become Secretary of Homeland Security.
Kerik withdrew, but his legal troubles later embarrassed Giuliani in his unsuccessful bid for the 2008 Republican presidential nomination. Along with pleading guilty to lying and evading taxes, Kerik also admitted receiving apartment renovations from a construction firm suspected of organised crime ties and helping the company win city contracts.
Around the Web