A two-month-old baby and his five-year-old brother have been placed in the care of the Probation and Social Services of Region 5 after they were found unattended at home yesterday morning.
The children's 29-year-old mother, of Kingelly, West Coast Berbice has been arrested by the police and is expected to face charges of neglect.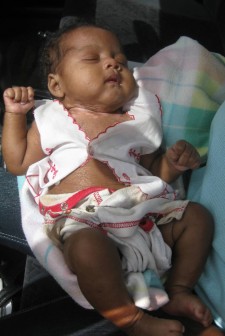 Reports are that Probation Officer Dollette Nicholson and Gloria Davidson, who are attached to the Child Care and Protection Agency, received information that the woman, a habitual drinker, had made one of her regular trips to the rum shop around 8 am yesterday morning.
Sources told Stabroek News that the officers went to the home and found the baby on the floor.
His brother was sitting in a chair drinking "sugar water" he had made himself from an old margarine container. There was nothing to eat in the one-bedroom shack, which was described as filthy, with tattered clothes scattered all over.
The officers picked up the children and were about to go and look for the mother when, having heard that they were at the house, she arrived back home.
Although she smelt of alcohol, she denied that she had been at the rum shop.
Angry villagers came out of their homes and insisted that they had seen her drinking there yesterday morning. They said too she was not sending the older child to school and was in the habit of leaving him and the baby alone at home to go out and consume alcohol.
She usually left in the morning and would return home around midday or later in the afternoon. Sources said one woman shouted that she was glad the officers had acted swiftly.
Reports are that the woman has two older children whom she had also neglected and the state had placed them in the custody of their paternal relatives.
Meanwhile, she told this newspaper that the younger children's fathers do not take care of them. She said too that she does not work anywhere but an "aunt would give me milk for the baby."
Around the Web