Four persons were injured last evening after the vehicle they were travelling in careened off the East Bank Demerara highway, cleared a trench and landed in the compound of a mosque at McDoom.
The injured are Derrick Seeram, 19, Telston Mc Kinnon, 20, Gabrielle Spencer, 18, and her cousin Candace Subryan, 24, who were all rushed to the Georgetown Public Hospital.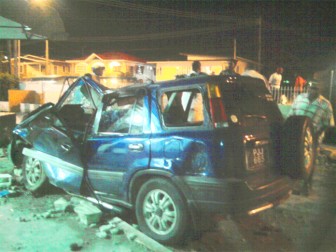 Seeram, the driver, sustained the most serious injuries. He was rushed to the hospital in an unconscious state but late last evening relatives told this newspaper that the young man was responding.
The three passengers in the vehicle were said to have sustained cuts and bruises about the body as well as other minor injuries.
The accident occurred just after 6:30 pm.
The group was travelling in a Honda CR-V, with licence plate PJJ 665, south along the roadway when they ran off the road, cleared the trench and ended up in the yard of the mosque.
Mc Kinnon told reporters last evening that he could not fully recall what had happened. He was later heard telling someone that prior to them running off the road another vehicle had clipped theirs.
At the hospital last evening, one of the men who helped transport the victims told Stabroek News that he was in the mosque when he heard a sudden impact. He said he rushed outside only to see the site of a badly damaged blue CR-V.
He said he had helped transport three of the victims to the hospital.
Police were on the scene directing traffic, which was brought to a crawl following the accident as curious onlookers gathered to get a glimpse of the wrecked car. The vehicle, which bore a "for sale" sign, was damaged beyond repair.
Around the Web