Noting a call by PNCR presidential candidate, David Granger for a judicial enquiry into all aspects of the drug trade, Home Affairs Minister Clement Rohee this evening said it made no sense and called on Granger for probes of a host of other areas including the killing of Walter Rodney and the 1973 ballot box shootings.
In a statement, Rohee said "Since like Shaggy he (Granger) said `it wasn't me' Mr. Granger should push for a Judicial Inquiry into the shooting to death in 1973  of Jagan Ramsessar and Bholanath Parmanand; the two Ballot Box Martyrs". Granger who has faced repeated questions over the 1973 elections has explained that he was in no way connected with the incident.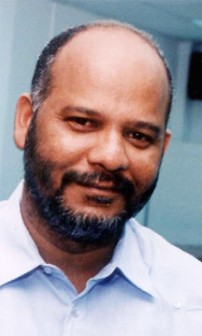 Rohee added that Granger, who was speaking on Thursday at a PNCR press conference, should also press for a Judicial Inquiry into the "subversion of the Constitution of Guyana under the PNC when the State and Party became   indistinguishable and the paramountcy of the Party prevailed".
Granger, Rohee contended, should also call for a Judicial probe into the assassination of Walter Rodney in 1979.
He further said that Granger should insist on a Judicial Inquiry into the theft of guns and ammunition from the Guyana Defence Force.  Rohee did not specify which incident he was referring to but a large quantity of AK-47s and handguns were stolen from Camp Ayanganna several years ago. Granger was not in the army at the time.
"Mr Granger who likes to project himself as `Mr Clean' should call for a Judicial Inquiry into the PNC's  connections with the Rondell Rawlins "Fineman" Gang that killed men, women and babies at Lusignan and Guyanese citizens at Bartica and Lindo Creek", Rohee asserted.
Rohee said that Granger appeared to be oblivious to the fact that the Government in its efforts to ensure that Law Enforcement Officers combating the drug trade are accountable, polygraphed all CANU and Police Narcotics Branch operatives within one and half years.
The Home Affairs Minister said that whatever is provided in counter narcotics interventions in Guyana, is supplied from Government's budget, but that Granger has opted to be an "apologist for the US Administration by simply and conveniently quoting a section from the US State Department Report that refers to trans-shipment of drugs to the US and other locations."
Rohee said that to claim that the country "has no functional counter narcotic plan" is to display a lack of understanding that cannot be helped.
He argued that Guyana is actively cooperating with Brazil, Suriname and Venezuela through established cooperation mechanisms to fight  drug trafficking.
"The Government of Guyana and the Government of the USA have been actively engaged along with other CARICOM countries in formulating and adopting the Caribbean Basin  Security Initiative (CBSI).   This Initiative in the context of international cooperation has a counter narcotics component that will be actively implemented in Guyana and other CARICOM countries", Rohee asserted.
He said that 16 of the 36  programmes in the 2005-2009 Drug Strategy Master Plan are "works in progress".
Rohee declared that preparations have already begun as regards formulating a successor 2011-2015 Drug Strategy Master Plan and that the Government is committed to continuing with its "aggressive posture" as regards its counter narcotic activities.
He posited that the Judicial Inquiry that Granger has called for makes no sense in light of the proactive approach by the Government and law enforcement agencies in Guyana.
Around the Web