MUMBAI, (Reuters) – Captain Mahendra Singh Dhoni  struck a dramatic six to bring the World Cup to India on  Saturday after Sri Lanka had threatened to ruin their party.
Dhoni finished with 91 not out as India, chasing a target of  275, won by six wickets with 10 balls to spare at the Wankhede  Stadium to become the first country to win the World Cup on home  soil.
They are also only the third side to win batting second, a  feat that seemed beyond them when Lasith Malinga dismissed both  openers in his first four overs.
"It's good to win. That was really pushing me in this game.  It's been a memorable 35 days that we've spent together and this  is the goal we wanted to achieve," Dhoni said at the victory  presentation.
Left-hander Gautam Gambhir stayed calm among the storm to  score a masterly 97, sharing a fourth-wicket partnership of 109  from 118 balls with man-of-the-match Dhoni. Yuvraj Singh, who  was named man-of-the-tournament, finished on 21 not out.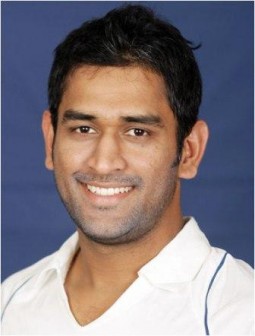 Muttiah Muralitharan, playing his last international match,  was accurate but rarely threatening and was clearly feeling the  effects of a hamstring and knee injury. The world record holder  for test and one-day wickets did not increase his tally.
After Mahela Jayawardene had scored an unbeaten 103 in Sri  Lanka's challenging 274 for six, Malinga reduced an exuberant  crowd to a shocked silence.
His second ball in the opening over skidded through low to  Virender Sehwag who, playing across the line, was out lbw  without scoring.
Sachin Tendulkar looked in masterly touch, off-driving and  square-cutting boundaries off Nuwan Kulasekara's second over.
Kumar Sangakkara persisted with Malinga and was rewarded  when Tendulkar (18) fended uncertainly outside the off-stump and  edged a catch to the captain behind the stumps. Malinga raced  the length of the pitch to receive the congratulations of his  ecstatic team mates.
Tendulkar, 37, who was playing in what looks certain to be  his last World Cup, still needs one more century to become the  first man to score 100 international centuries.
Gambhir and Virat Kohli began the rescue operation and  received a huge slice of luck when the former was dropped at  long-off by Kulasekara off off-spinner Suraj Randiv on 30 with  the total on 68.
Kohli batted enterprisingly to reach 35 when Tillakaratne  Dilshan, took a magnificent one-handed catch off his own bowling  flinging himself to his right with his arm fully extended.
Gambhir was within three runs of a century when medium-pacer  Thisara Perera knocked back his middle stump. He threw back his  head in disgust but his 122-ball innings with nine boundaries  had gone a long way to winning the World Cup for his country for  the second time.
BRILLLIANT SPELL
After a brilliant opening spell from Zaheer Khan, who took  one for six from his opening five overs in the Sri Lanka innings  after starting with three maidens, Jayawardene guided the ball  deftly into the gaps and ran swiftly between the wickets.
Sangakkara (48), who had negotiated his early overs  carefully, appeared set to play a substantial innings when he  attempted a cut against Yuvraj's left-arm spin and edged the  ball straight to Dhoni who threw the ball gleefully into the air.
Jayawardene kept the scoreboard ticking over before Sri  Lanka took the batting powerplay in the 46th over and the whole  tempo of the game changed.
Kulasekara swung across the line to smash Zaheer into the  stands for the first six of the match. Jaywardene danced outside  his leg-stump to slash Zaheer for four and bring up his second  century of the tournament from 84 balls with 13 boundaries.
Kulasekara was run out for 32 giving Perera the opportunity  to crack 22 not out from nine balls with three fours and a six.  Sixty-three runs came from the batting powerplay, Sri Lanka's  best of the competition.
Once Dhoni had finished the match, his team mates ran on to  the field and hoisted Tendulkar on to their shoulders for a lap  of honour in front of 33,000 cheering fans.
"It's the proudest moment of my life. It's never too late.  It's terrific to be part of this team, a great honour," said an  elated Tendulkar who won the Cup on his sixth attempt.
Sangakkara was gracious in defeat.
"They deserved this title, the way they played in front of a  great crowd. Both Sri Lanka and India will be proud with the way  they have played," he said. The only way to stop India is to get  at least seven wickets. Gautam was outstanding and Dhoni stepped  up and performed."
Around the Web