Around one year after Liloutie 'Pinky' Seeram, 32, was brutally hacked to death at her Glasgow Housing Scheme, East Bank Berbice home the attacker is still on the run and relatives continue to plead for justice.
It was around 1.30 am on March 27, 2010 when Seeram's husband, Rooplall 'Kelly' Boodhoo, 35, a cane-cutter dealt her the deadly blows with a cutlass. He had just returned home under the influence of alcohol.
He also turned the weapon on her mother, Lata 'Cheryl' Inderdeo, 53, chopping her severely on her right shoulder and left palm after she tried in vain to defend her daughter.
She was rushed to the New Amsterdam Hospi-tal where the wounds were treated. Luckily, she survived the attack. Seeram, a mother of two, was wounded in the back of the head and three fingers on her left hand were severed.
Inderdeo told the Sunday Stabroek that her wounds may be healing but the pain she feels at losing her daughter in such a gruesome manner "can never heal like that."
"A whole year pass and they still can't find a trace of him. He cannot kill my daughter like that and chop me so bad and be walking free. He is a violent man and he should be found," she said.
She said too that he should "come out [of hiding] and pay the consequences. I lost my daughter and nothing can bring her back but at least I want justice." She also called on the police to make every effort to capture him. Until then, she said, she would never be able to move on with her life.
She is desperately "trying to put the tragedy behind but it is hard." It hurts her even more to know that "he is somewhere out there hiding and enjoying his life while he took my daughter's life and left me in pain and distress."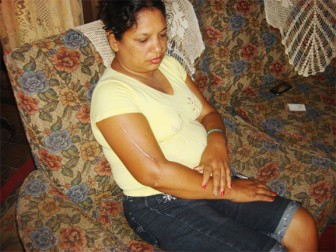 Inderdeo had been living with her daughter and son-in-law and their children, Nerissa and Nicholas, now 14 and 11, for about one year. She had become attached to her grandchildren.
At the time of the chopping the children were spending the night at the home of their grandfather, Ramnarine Seeram [Inderdeo's former husband] in nearby Edinburgh Village. Since their mother's death they have been staying with him.
According to Inderdeo, she and the children are still "living in fear because we never know if he [Boodhoo] can come back and attack us or any other family member. It is still very hard for the children to cope with the tragedy.
"They too cannot get over this easily… I think they would need counselling. Nerissa keeps asking if her father is walking around with the cutlass." She said she and the children need protection.
The woman said she misses her daughter "a lot; I am only coping because the Lord helping me. I know that one day the Lord would expose him. He cannot run all the time."
She pointed to the fact too that one year later, she is still experiencing pain and is unable to use her left palm and middle finger. The palm is not completely healed and she still experiences a lot of pain in her right arm "because those were not cuts they were chops…" She was thankful to God though that her condition has improved.
When this newspaper contacted her she had just returned home from the dispensary at Edinburgh where she had gone to seek treatment.
She said she can do almost everything for herself but the relatives she is staying with would also have to assist her because "I can't fatigue my hands all the time."
She commented that she is not getting any assistance from government or anywhere, and that during last year visited the Red Thread organization to tell them of her plight. While there, a female member of staff noticed that she could not pull the chair and came over and did it for her. The woman then visited her at Annandale, East Coast Demerara where she was staying with relatives, and filled up a form and promised that she would try to get assistance for her from the government.
Last September Dianne Madray, an anti-domestic violence activist of Pennsylvania, United States of America (USA) visited her to see how she was coping, and learnt that her finger was infected.
The following month she returned with Varshnie Jagdeo and they made arrangements and "paid all the bills" for her to see a doctor in Georgetown. She was grateful for the help.
She needs someone to look into the welfare of the children and investigate the way they are living because "they are not happy and comfortable with their grandfather."
Crying bitterly during the interview she lamented that she is torn because she is not able to do anything for them or have them close to her.
However Ramnarine told SN that he was giving his grandchildren the best care and would prepare different meals for them every day. He would also pack their lunch bags and see them off to school before going to work.
He reiterated that the children are still traumatized by what happened to their mother and grandmother and are afraid to be alone, especially at night.
Meanwhile, Seeram's brother, Mahendra Seeram of the USA told SN that he is still mourning the loss of his sister and "until the killer is caught I would not be able to rest."
He misses her "deeply… words cannot express the way I feel for this loss. She was my only sister and I looked forward to calling her. I only wanted the best for her like any brother would. All I have now is her memories in photos."
The emotional Mahendra said "there isn't a day that goes by without me thinking of her; I still can't believe she is gone. I can't call her for her birthdays, Christmas, nothing. I miss her so much but my biggest regret is that she never got to see my kids or hold them and play with them."
He recalled that they both attended Berbice High School and would ride from Edinburgh, East Bank Berbice to get there. They also shared a "close relationship while growing up…"
His message to brothers, he said, is that "when your sisters get marry please look over them…
I was too far away so Kelly [Boodhoo] took advantage on my sister." He also pleaded, "Sisters don't hide info from your family; if your husband is hitting you, say something to your family because it will end up like my sister…"
On that fateful day, Seeram screamed desperately for her life to be spared. She was pronounced dead on arrival at the New Amsterdam Hospital.
Commander of 'B' Division, Stephen Merai told this newspaper recently that ranks had just returned from the Glasgow area after searching for Boodhoo. He said that it is an ongoing exercise and they would not give up until he is caught.
During last year Boodhoo was charged in his absence with Liloutie's murder following advice from the Director of Public Prosecutions and a warrant has since been issued for his arrest.
Around the Web