The Guyana Sugar Corporation (GuySuCo) said yesterday that it has noted comments attributed to Chairman of IPED, Dr Yesu Persaud regarding "political interference" in the current operations of the industry and published in the Friday, April 1, 2011 business section in Stabroek News.
GuySuCo also noted in a release that the article had quoted Dr Persaud's assessment of the local economy contained in the IPED 2010 Annual Report that "poor management and unnecessary political interference continue to plague Guyana's struggling sugar industry."
He also went on to state "that human resources and cash flow problems apart, the 'sugar' industry is in dire need of a non-political solution."
However, the release noted that the article did not state whether he had listed the instances he deemed were unnecessary political interference and what exactly was his non-political solution to overcome the challenges of the state-run industry to which he was appointed vice chairman following the acquisition of the private sugar estates by the then government and formation of GuySuCo on May 26, 1976.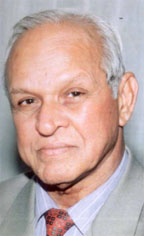 According to GuySuCo, it is quite unfortunate that when the industry is beginning to show signs of improvement despite the challenges posed by both external factors and those noted by Persaud himself, "he would resort to make such a regrettable statement which only serves to demoralize and undermine the efforts achieved thus far in reviving the sugar industry in Guyana."
The corporation said also that it found strange "Dr Persaud's firm stance against interference affecting the rebuilding process of the industry when the Demerara Distillers Limited of which he is also chairman had resorted to moving to the High Court to block the intended US$10 Million investment in the local industry by Angostura of Trinidad and Tobago (for) which an MOU was signed in 2003."
This investment, according to GuySuCo, was envisaged to complement that of the Skeldon Modernisation project in Region Six to ensure it was in a better position to counter the anticipated challenges the industry is currently faced with and taking into consideration that the alcohol business has always been more profitable as opposed to GuySuCo's current status quo of producing sugar and selling its molasses. DDL had taken the action to preserve its long-standing access to GuySuCo's molasses.
Over the years, the release continued, DDL has also benefitted from a fair price in comparison with world market trends in purchasing molasses from GuySuCo.
Around the Web