Road safety is now a priority in Lethem and surrounding communities in Region 9 that are seeing a greater volume of traffic daily.
In a statement, the Region 9 Road Safety Council said it is working with the police traffic department at Lethem to promote the safety of the public using the roads in the border town. Chairman of the Council Terrence Boston was quoted as saying that a one-year "Road Safety Programme" was planned for the region, with special focus on Lethem and surrounding communities. Among the activities planned for this year are the placing of speed limit and traffic regulatory signs on roads in the area and the holding of road safety sessions with schools, drivers and satellite communities that interface with traffic from Lethem.
The statement noted that recently the traffic department commenced sessions with students at the St. Ignatius Secondary School, near Lethem and there are plans to visit other schools in the area. Additionally, work is underway to re-erect traffic signs in the area, after they were uprooted by vandals.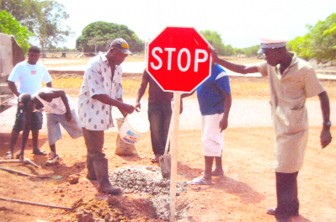 In a joint statement, the Council, the traffic department and the Lethem Neighbourhood Democratic Council said that persons who are caught vandalising traffic signs would be dealt with severely according to law.
Meanwhile, the Council said that it is examining creating information signs in both Portuguese and English, in order to remind the hundreds of Brazilian motorists who cross the border into Guyana every day to drive on the left side of the road. Brazilian motorists drive on the right side of the road in their country.
Around the Web