Guyana Trades Union Congress (GTUC) General Secretary Lincoln Lewis has lashed out at newly-selected PPP presidential candidate Donald Ramotar, saying he ought to answer for government policies that have stymied the working class and led to the degeneracy of the society.
"Now that the incumbent PPP has signalled that its General Secretary Mr. Donald Ramotar has secured the nod to be the party's presidential candidate, his stewardship as party leader, member of parliament, and lead decision maker of the government's policies must come under scrutiny for he cannot escape responsibility for the degeneracy of this society," Lewis said in a statement, hours after Ramotar had been selected.
Pointing to the acknowledgement by Cabinet Secretary Dr Roger Luncheon that the PPP's policies in-formed government's actions, Lewis said that Ramotar "would have to explain to the workers of this country what informed his decisions to preside over the erosion of their rights, [and] the continued failure of this administration to respect the right to collective bargaining for public servants and the Guyana Public Service Union." He also pointed "to the ongoing dispute between the Guyana Bauxite and General Workers Union (GB&GWU) and the Bauxite Company of Guyana Inc (BCGI) going back to May 2009, the refusal of the government to lower VAT even as workers and unions cry out about the burden on their dwindling disposable income [while] the Minister of Finance boasts of its unexpected windfalls."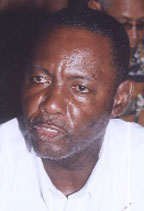 Lewis also cited the economic viability of the National Insurance Scheme (NIS) and said that this is a cause of concern.  "All workers (active and retired) would like to know about the economic viability of the [NIS] and what systems are being put in place to ensure their contributions are safeguarded to pay their benefits, and not lost in the failed CLICO and Berbice Bridge," he said.
He also pointed to Ramotar's involvement in the "gross mismanagement" of the sugar industry. Ramotar is one of the members of GuySuCo's board. "Taxpayers now have to shoulder the financial responsibility of an industry that has the capacity to be self-sufficient, because the government failed to properly implement the restructuring programme and honour requests, preferring instead to play politics and jeopardising the workers' well-being by replacing professionals with party hacks," Lewis asserted.  He said too that the "conceptualising, development and execution of a programme to destroy the bauxite industry, workers and their communities have been the making of Mr. Ramotar and President Jagdeo." Lewis also accused Ramotar of remaining silent while GuySuCo threatened GAWU with derecognition. "In opposition, Mr. Ramotar was a lead promoter of an egalitarian society and advancements of the working class but when given the opportunity to govern, the PPP has instead presided and executed the most in-egalitarian and anti-working class policies this nation has seen since post independence," he charged.
Around the Web