Eight-year-old Leslyn Baptiste, the Agricola Primary School student, who was struck down on Thursday last in the vicinity of her home, is said to be making progress health wise.
When this newspaper visited the Paediatric Ward of the Georgetown Public Hospital yesterday, she was lying comfortably chatting with her relatives. According to her aunt, who was also visiting at the time, yesterday was the first time the child had smiled since being admitted to the hospital.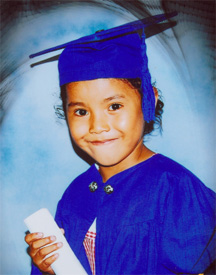 Earlier a CT Scan had been performed on Leslyn to determine the extent of her head injuries, and the results revealed that there might be a possibility of paralysis/disfigurement or a threat to her life, but relatives are watching her condition and hoping that it doesn't turn out that way.
Meanwhile, the driver of the vehicle that struck her down is still in police custody, and according to Leslyn's aunt, he is expected to make a court appearance some time soon.
Around the Web