The official commissioning of the Shell-branded Regent Street Service Station yesterday brings the company closer to fully operating its local retail network which comprises 13 sites, 10 of which are owned by the company and operated by retailers while the other 3 are owned and operated by dealers.
Sol General Manager Ken Figaro said the Regent Street site is being operated, as it is with 8 of the 10 company owned sites, by husband and wife Colin and Theresa Thompson and further stated that another of the company-owned sites will be re-opened later this week, the Ogle Service Station, and this too will be operated by another young couple.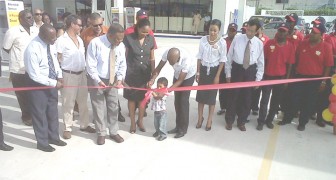 Figaro added that the Shell-branded sites have the highest retail efficiency locally and one of the highest among the 17 markets and 458 sites in the region, though representing just a small percentage of the total market and even a smaller percentage of Sol's total regional retail network.
Figaro also spoke of a setback position the company faced when having rebranded and commissioned sites at Ramsburg, Linden, Vreed-en-Hoop and Corriverton in 2009, injunctions were filed by three retailers of the company owned sites, preventing their replacement after the expiration and termination of their contracts.
He noted that these matters were all ended in favour of the company, thus enabling the continuation of the rebranding process, albeit almost two years later.
Delivering the feature address, Prime Minister Samuel Hinds commended Sol for its continuous investment in Guyana.
Hinds noted that there was no doubt that Guyana has been growing and developing in the particular area of motor vehicles, whether for pleasure or business.
"There is no doubt that there is a steady increase in new vehicles and new equipment being put to use in Guyana… often my people choose roads that are away from activity…and though I've been caught in a lot of traffic jams, particularly on the East Bank Demerara and to an extent, traffic jams are an indication of development in the country," the Prime Minister stated.
Hinds also touched on the current steadily rising cost of petroleum and petroleum products. "The challenge to come to grips with the oil prices and let me say, sustainability, is the most important thing and for the sustainability for the business… It is the interest of all of us to come to terms with the increases in oil prices. We need to look at conservation, saving, efficiency, alternatives and such like," Hinds pointed out.
Following the commissioning, a presentation was made to the Prime Minister and a tour of the facility was then offered.
Around the Web