Two armed robbers yesterday grabbed $600,000 from the Linden Utility Services Co-op Society Limited (LUSCSL), after intercepting the security escort during a routine bank transfer.
The cash represented the day's takings from electricity bills payment and the society's electrical shop. LUSCSL is the entity responsible for the distribution of electricity at Wismar.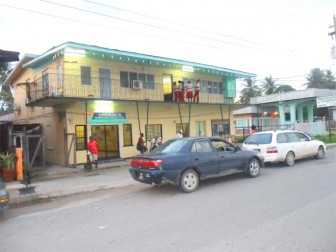 The robbery occurred shortly after 5 pm, a few yards from the society's building. LUSCSL personnel had just joined the security bus, which usually transports the daily takings to be deposited at the bank. According to the company's manager Esme Yangapatty, who was nearby at the time, before the accountant could be escorted into the bus, "we observed this scuffle, he and this young man scuffling. Well I didn't take it for nothing because I was giving instructions otherwise."
A passerby shouted "robbery" and at that point the Linmine Secretariat's armed security escort was floored by one of the two bandits and relieved of his weapon. According to several eyewitnesses, the security put up a strong fight with his attacker, while the unarmed supervisor of security Veronica Fontanel was gun-butted several times by the other robber. "Shortly after we heard Ms Vera shouting and she too was on the ground," said Yangapatty.
While on the ground, Fontanel was still holding on to the bag with the cash and her personal belongings. The accountant managed to escape back into the building without harm.
While there is an active taxi park in front of the LUSCSL building, persons on the scene said that they were kept at bay from intervening because one of the robbers was brandishing a handgun. They said that both men came out of the nearby Poker Street and made good their escape through the same street. Eyewitnesses said that no rounds were fired either by the bandits or the security personnel. "How dis thing happen, I ain't even sure if de security man had a chance fuh pull he gun," said one eyewitness.
According to Yangapatty, she attempted to contact police at the Wismar Police Station during the robbery. "All the time the phone there was giving an engaged tone. About 20 minutes after, they show up after someone who was passing by informed them of the robbery," she said.
The Wismar Police Station is located less than quarter of a mile from the LUSCSL. Both entities are on the same straight road. Upon their arrival, the police immediately searched nearby areas but up to press time no one was positively identified or arrested.
Only one of the robbers was masked.
Around the Web