Nerissa Pearson wants a public apology from the Guyana Defence Force (GDF) officer who assaulted her on Sunday morning and says he should be penalised in some manner for embarrassing the army and Guyana.
Pearson, a former media operative, believes that the officer should also apologise to the army and Guyana for his actions. The officer is a recent graduate of the GDF Cadet Officers Course.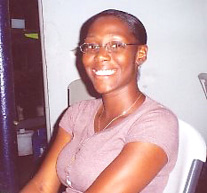 Speaking briefly with Stabroek News yesterday afternoon, Pearson also extended apologies to the Guyana Police Force for initially stating that the officer was associated with them. "I was initially misinformed that the man was a member of the Guyana Police Force," Pearson said.
"I want it to be said that I was not brutally abused or assaulted. Rather it was an assault…he pushed me and then slapped me," Pearson recounted. "I do not want to give people the wrong impression that this man brutally assaulted me."
During the wee hours of Sunday morning, the officer allegedly attempted to run over three of Pearson's female friends with his car and then threatened to shoot one of them. Pearson was the Disc Jockey at a private party at Leopold and Cross streets, Georgetown.
She had related that the women had just exited the party and were standing at the corner of the road when they were attacked by the officer. The women, Pearson had explained, are of a "different sexual orientation" and it was because of this that the officer started to "pick trouble" with the group.
"I was not and am not trying to fight for gay rights. I was fighting for my own rights and I was trying to defend this woman from him and I was trying to protect him from getting into a worse situation with her," Pearson said.
The woman further stressed that she is not looking for any sort of compensation. This is not about money, Pearson stated, adding that, she wants to see strict disciplinary action taken against the officer by the GDF as well as criminal charges being instituted by police.
"It was his homophobic tendencies which led to the incident and he subsequently continued to exploit the power offered to him by his position in the GDF," Pearson noted. "It is this exploitation of power against which I also speak. If he cannot be stripped of his uniform then I hope that he is disciplined in some way. He and men in his position should remember the responsibility offered to them by their office and they should uphold the honour of that office."
Pearson was scheduled to meet with the Station Sergeant at the Brickdam Police Station some time yesterday afternoon. However, when she arrived at the venue she was informed that the Station Sergeant was not present and was asked to return this morning for the meeting.
On Monday, Pearson said, an army officer contacted police to enquire about the matter. The woman said that she had not been contacted by the army and does not know whether GDF will be conducting a separate investigation into the incident.
"As far as I know the police have not arrested the officer that attacked me and I have heard nothing about whether the army has held him pending disciplinary action," she told this newspaper.
Several efforts made to contact relevant GDF officials for a comment were futile. When Stabroek News contacted the office of Lieutenant Colonel Windee Algernon, an employee there said that she was not present. This newspaper was referred to another person in another office; however, that person was also not available to comment.
Last February, the same coast guard had appeared at the Georgetown Magistrates' Court on an assault charge.
Around the Web