Two days after he disappeared during an outing at the Aziza Akousa resort at the Linden/Soesdyke Highway, the body of 14-year-old Kevin Poulis was found with his head just below the water surface.
Relatives had their worst fears confirmed when members of the search party found the South Ruimveldt Secondary School pupil sometime after 8 am. Up to late yesterday afternoon, police were still questioning two persons, who were among those who accompanied Poulis, called 'Gobbie,' to the creek.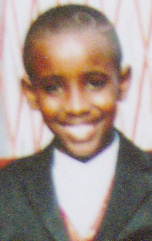 The child's distraught mother, Melinda Seales, told Stabroek News yesterday that she is looking for answers, since the various accounts she has received do not make sense. She again noted that one of the persons held for questioning had said that Poulis came out of the water, gave her his expensive shoes to keep before heading to the roadside. "So tell me how he ended up back in the water and nobody ain't see?" the grief stricken mother questioned. The boy was her only child.
Seales said her uncle and others returned to the creek yesterday morning to continue the search and were told by members of a family living nearby that they heard screaming on Sunday night.
This would have been hours after the teen disappeared. According to Seales, the resident said that they did not go out to investigate.
It was apparently shortly after, that Poulis was spotted. According to his mother, "like the body was just beginning to rise."
She said that she is awaiting a post-mortem examination, scheduled for today, to ascertain how her child died.
Recalling the last moments she saw him, Seales said that the child was not to go but later it was decided that he along with his two friends would accompany the adults since one of the vehicles had space. She said that Poulis was acting normal and did not seem excited to go to the creek. "Like he didn't really want to go," she said.
According to Seales, in the presence of others she asked her son if he knew to swim and after he responded in the negative, she instructed him not to go into the water.
The grief stricken woman questioned why he was allowed to go in or was not closely watched, though persons knew he could not swim. The woman said that she and two friends arrived at the location later that day and it was only then that she was informed that Poulis was missing.
She said that it was her uncle who informed her and they immediately started searching. The woman said that the persons, who her son left his Guyhoc home with, were partying as though nothing had happened. She questioned why they did not immediately inform her that he was missing, especially since they were responsible for his wellbeing.
Poulis' friend, Leyland Edwards, had recounted that they along with another friend were playing ball in the creek and then decided to come out of the water.
He said they were relaxing when his mother asked if they wanted food and after responding in the negative they returned to the water.
Around the Web