Canadian crime prevention expert Peter Faulhaber, who was shot during an armed robbery on the seawalls, was yesterday discharged from hospital.
Faulhaber, a former policeman and United Nations employee, told this newspaper that he is resting at his home. While there is no medical requirement for him to leave the country, he noted that his employers willmake the final decision as to whether he needs to travel overseas for additional healthcare.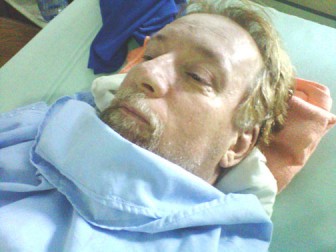 Meanwhile, the two robbers who attacked Faulhaber just before nightfall and escaped with his iPod remain on the run.
The man had recounted to this newspaper that on Sunday, just before 6pm, he was on his usual evening walk on the seawall and had reached the Shell gas station in Ogle. He said that on his way back "two fellas jumped me" and during a "very, very short scuffle" he was shot. He said that everything was over in a few seconds.
He believed that the perpetrators were after the music player. He said that after they shot him in the thigh, one jumped on a bicycle while the other fled on foot.
He said that it was kind passersby who helped him to get to the hospital. Faulhaber had also noted that at the time of the attack, there were quite a few people around.
Around the Web