Police in Berbice are investigating the death of a Corentyne rice farmer, who died several hours after being rushed to the Skeldon Hospital in an unconscious state.
According to relatives of Gyara Shurtti Chunnillal, 28, of Lot 109, Number 64 Village, Corentyne, he was rushed to the Skeldon Hospital around 1:30 am yesterday after he was picked up by police on the Number 70 Village Public Road in an unconscious state. A police source noted yesterday that the man's death was being investigated as a murder and police officers were examining all possible leads in their investigations.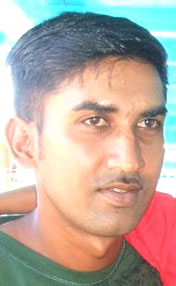 Reshma Dhanai told this newspaper that Chunnillal, her cousin, was on his way home early yesterday morning on his motorcycle after visiting friends and relatives in the area when the incident occurred. According to Dhanai, she could not say what happened at the scene and she noted that persons in the area could not say what occurred. However, she noted that the family was told that someone in the area called the police and alerted them of the body of a male, which was lying on the roadway.
Dhanai said that the injured man was subsequently transferred to the New Amsterdam Hospital, after his condition worsened and his father-in-law and another relative, after being notified, journeyed to the medical institution to check on his condition. She noted, however, that around 4 am, shortly after they arrived at the hospital, the man was pronounced dead by doctors.
She said that Chunnillal and his two-year-old son lived with his parents at Number 64 Village. He was preparing to migrate to the United States within the next three months to join his wife, who is resident there.
She said that the family has its questions about the man's death, noting that relatives reported that he sustained a deep wound to the head. "Nothing didn't happen to the bike and he didn't even had any bruise or break any limb… so we dunno if is accident or murder," the woman said.
Another relative said that he could not recall Chunnillal having any grievances with anyone but he noted that there have been a number of "petty robberies" in the area within recent months. Relatives could not say if Chunnillal's possessions, which he had on his person, were intact.
This newspaper understands that police officers at Springlands yesterday revisited the scene where the Chunnillal was picked up, and persons in the area were questioned regarding the incident.
The man's body is at the New Amsterdam Hospital mortuary awaiting a post-mortem examination.
Around the Web