A man accused of attempting to murder another after allegedly dealing  the complainant several lashes about the body was yesterday remanded to prison by  acting Chief Magistrate Priya Sewnarine-Beharry at the Georgetown Magistrates' Court.
The allegation against Mark Smith is that on June 16 at Georgetown,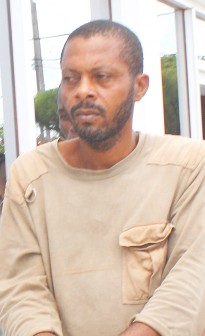 he attempted to murder David Sookraj.
The labourer who resides at 78 Barr Street, Kitty was not required to plead to the indictable charge when it was read to him.
In presenting the prosecution's facts, Police Corporal Venetta Pindar told the court that the two are known to each other and that on the day in question the virtual complainant (VC) was walking along the road when he was attacked by the accused.
According to Pindar, the accused approached the VC saying, "Ah gun tek all now."
The court then heard that the accused began to deal the complainant several lashes about the body after which he fell to the ground. After falling, the corporal said that the accused continued hitting the VC.
She said that the injured Sookraj was subsequently taken to the Georgetown Public Hospital where he was admitted a patient in the High Dependency Unit.
Smith was later arrested and charged.
The prosecution objected to the accused being granted his pre-trial liberty, stating that the complainant is still hospitalized and is in a critical condition. Corporal Pindar then requested a date to report on Sookraj's condition.
The prosecution's request was granted and Smith was informed by the court that he would be remanded. The matter will be called again on June 27.
Around the Web