Patricia Fraser, of No. 40 Village, West Coast Berbice (WCB) is looking to rebuild her life after her home collapsed last Wednesday amid the high winds which hit various parts of the country that morning.
Fraser, who is employed as a police officer in the city, said that at about 7:45 am she received a telephone call from her neighbour informing her that her home had collapsed.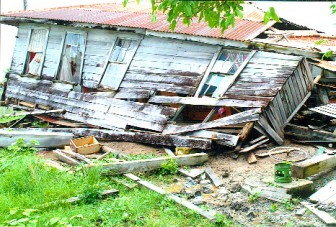 The mother of eight explained that because of her job, she would only spend about four days at home.
She lives there with her youngest son and a grand-daughter, she told this newspaper.
On that same morning a house in Lichfield, WCB, the village next to No.40 Village, also came crashing down. A house in Cane Grove, Mahaica and another in Supply, East Coast Demerara also collapsed.
Fraser, who travelled to her home the following day, said that she has yet to ascertain her losses.
However, she told this newspaper that the items damaged include: a bunk bed, a refrigerator, a television set, a wall divider, a wardrobe and a dining table. The woman said that her main concern at present is replacing the items she would have lost. Anyone wishing to assist Fraser can contact her on telephone number 673-2368.
Around the Web