A fish vendor is in a critical condition following an early morning accident at Princes and High streets, which left her trapped in a wrecked car.
Nirmala Sugrim, 50, is now a patient at the Georgetown Hospital, after the car she was travelling in was hit by a bus. This newspaper was told that the mother of two has lost a lot of blood. She is bleeding internally and has serious injuries to her head and back.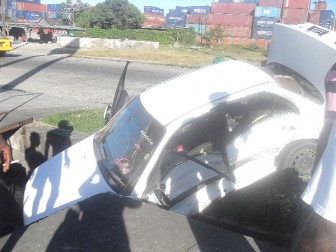 At the time of the accident, Sugrim was heading to the Stabroek Market where she plies her trade.
It is understood that the car that the woman was in was travelling along Princes Street and had crossed High Street when it was hit by a Route 31 minibus.
The car, which was transporting Sugrim and a female driver, ended up in the trench.
According to the driver of the minibus, who declined to state his name, he was coming down High Street, a one-way road, when the driver of the car came speeding across the intersection. "She supposed to stop 'cause I had de right o' way," he said.
As a result, the front of his bus collided with the side of the car, he said. Rescuers spent some time trying to free the women, and according to Sugrim's brother-in-law the car had to be broken open for them to do so.
Sugrim was rushed to Georgetown Hospital, while the driver was taken to a private hospital with injuries to her neck. Speaking with Stabroek News, the vendor's brother-in-law Indarjeet Ramkissoon said that when he got to the hospital, Sugrim was in an unconscious state. He asked to speak with the doctor but was unable to do so.
Ramkissoon said that he and his wife returned to the hospital during visiting hours yesterday afternoon and learned that Sugrim had regained consciousness.
According to his wife, the woman had also communicated with them.
Up to press time, the doctors had not made a statement about Sugrim's condition and Ramkissoon said he was promised a report today.
The driver of the bus sustained wounds to the head, and according to him, the driver of the car was treated at the Woodlands Hospital and subsequently released.
Police have launched an investigation into the accident.
Around the Web