Government yesterday began the third phase of recovery efforts for flood-affected communities across Region Nine, with a focus on food and food production for the agriculture-dependent indigenous villages in the sprawling savannah region.
Preliminary reports say that over 1,000 acres of farmland were flooded and over 90,000 pounds of crops were lost, Agriculture Minister Robert Persaud told a stakeholders' recovery workshop in Lethem yesterday.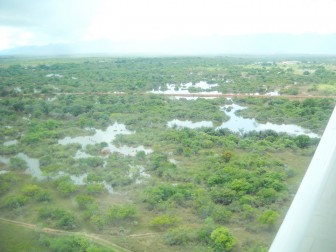 Toshaos and village leaders from some 60 communities across the Central and Northern Rupununi gathered at the Amerindian Hostel for the workshop, relating their experience of what was described as "the largest flood in living memory" and requesting various forms of assistance.
Officials took details for the assistance package being worked on. A similar meeting is planned for Aishalton in the Deep South Rupununi tomorrow.
The floodwaters, which covered low-lying communities including the administrative centre, Lethem, for days earlier this month, have receded. But with rains continuing, water levels in many rivers and creeks remain high. Persaud promised that government's assistance will be sustained and yesterday handed over to the toshaos a quantity of items including cassava mills, chemicals to combat pests, storage containers, spray cans, pumps, and planting materials, among other things. $10M has been expended in addition to the $50M for relief efforts, Persaud said.
This third phase of recovery will last for four to five months, Regional Executive Of-ficer Ronald Harsawack told the workshop. Persaud told Stabroek News that officials are out in the communities and along with Toshaos will gather information which will be put in a database for the financial assistance that government will be providing to flood-affected communities.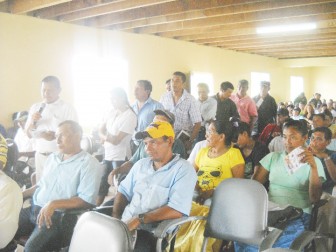 He said that the figure for this financial package is not yet known nor is how much a household is likely to get. "It depends on the family and recommendations…it has to be done in a consultative manner," said the Minister.
Many of the village leaders spoke on the experience of their villages with the recent flood and related similar stories. John Daniels, toshao of Parikwarinau, located in the South Central Rupununi, said that out of 40 households, 30 were affected by the floods. He said that they need chemicals to combat pests. He pointed out too that some farmers had planted acres of cassava but had nothing in which to store the produce. Leaders from other villages related similar tales and requested various forms of assistance including chemicals, fertilizers, planting materials and storage containers, among other items.
However, other villages like Katoonarib were not badly affected. Toshao Hilbert Wilson said that they have enough cassava which they are willing to supply to badly-affected villages once there is a market.
Persaud said that the Ministry will buy produce and planting materials from the farmers rather than bringing these from the coast once they are available.
Several other toshaos said that livestock was affected and requested veterinary assistance. The representative from Kumu said that it was the biggest flood they have ever experienced and out of 54 households, 26 were affected. He said that the village wants a cassava mill to process their produce. The toshao of Massara said that the village was badly affected by the floods and some of their animals were starting to have "foot rot" while the representative from Parishara said that farms are being destroyed up to now. "The effect of the flood is still going on," he said.
Persaud spoke of the interventions thus far, pointed to the supplies being provided yesterday and said that additional teams will be sent in.  He also ordered agriculture officials immediately to the areas where there was a need.
The minister also urged farmers to learn from the experience and practice "climate-smart" agriculture. He warned that with climate change, the possibility of the type of weather system experienced occurring again has increased. "We have to adapt," he told the leaders, pointing to farming in the savannah.   "We have to look not only at new techniques but where we farm."
The Minister said that flooding gives an opportunity to bring new technology, new techniques, new thinking to the area and "a new chapter in how we do agriculture." He noted that the recovery will take some time. "There also will be a cash assistance that will be given to every single household," in every affected community, Persaud said. He said that once the database is established, the funds will be allocated.
Persaud said that government's support will not end here and will even be ramped up. He told the gathering that there are persons who "want to sow confusion" but said that these persons are only interested in politics. He also said that there are those too who would seek to use the people's plight "to enrich themselves and their organization."
Minister of Amerindian Affairs, Pauline Sukhai, meanwhile, urged the leaders to report their information. During the flood, she said, there were a large number of villages from where the information was not flowing.
Around the Web