President Bharrat Jagdeo yesterday in a series of meetings in Germany with that country's leaders focused on the need for sustained political action on climate change, and in particular on Guyana's and Germany's upcoming joint chairing of the Interim REDD+ Partnership from July 1, the Government Information Agency (GINA) said in a press release.
The group consists of most of the world's forest countries and key developed countries.
President Jagdeo met with President Christian Wulff at Bellevue, the German President's official residence.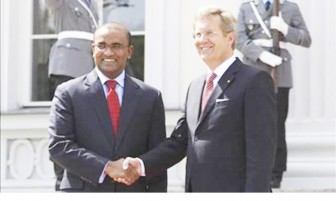 Speaking afterwards, President Jagdeo said, "In the run up to Copenhagen, the issue of climate change and green growth received an unprecedented level of first-order political attention. Sadly, that attention has faded in many cases.
However, Germany has remained firm in its commitment, both to the deep emissions cuts required to stabilize our planet's climate, and to the protection of bio-diversity and the alleviation of poverty across the world."
President Jagdeo also said he is confident that Guyana and Germany will both apply the necessary political leadership to the issue of deforestation and forest degradation in the  upcoming co-chairing of the Interim REDD+ Partner-ship.
Jagdeo  also met with Dr. Christoph Heusgen, Chancel-lor Angela Merkel's Foreign Policy Advisor and with Werner Hoyer, the Deputy German Foreign Minister.
Jagdeo spoke of Chancellor Merkel's commitment to combating deforestation, and her decisiveness at the side meeting of the G20 in April 2009, when Guyana was one of three non-G20 countries invited to discuss how to put in place an emergency package for the fight against deforestation and forest degradation.
It was the G20 side meeting which led to the foundation of the Interim REDD+ Partnership.
Speaking in Berlin, Jagdeo said: "We cannot solve climate change without solving deforestation. And after the work initiated in 2009 at the G20 side meeting, we know that it will be possible to deliver a 25% reduction in global deforestation rates within five years."
GINA stated that the meetings in Germany followed Jagdeo's trip to South Korea where he took part in the Board Meeting of the Board of Directors of the Global Green Growth Initiative. He concluded his visit to Seoul when he attended the Global Green Growth Summit, and met with Korean President Lee Myung-bak and Foreign Minister Kim Sung-Hwan to talk about investment opportunities in Guyana and other bilateral matters, the release concluded.
Around the Web