A teenaged boy who was electrocuted while trying to fix a light bulb on Monday, was not wearing a shirt at the time and an exposed wire reportedly fell on his chest.
Lashauna Husbands, an older sister of 13-year-old Eudell Fiedtkou of Lot 163 Unity Street, La Grange, West Bank Demerara, related that her brother was electrocuted while attempting to fix a light bulb and was pronounced dead on arrival at the West Demerara Regional Hospital.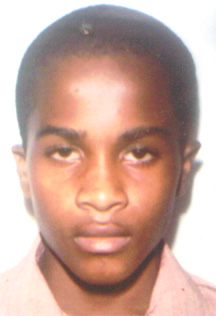 When Stabroek News visited the home yesterday, the child's mother, Orpha Husbands, was ill and unable to speak.
Lashauna Fiedtkou explained that the incident occurred around 19:00 hrs on Monday. She said that when he was shocked, the force of the electricity pitched him some 2-3 feet away. Husbands said the live wire landed on the teen's chest and as he was not wearing a shirt, it burned a hole through his skin. "The wire burnt his chest and like it seize up his heart instantly," she said.
She said her mother, after hearing her son scream, ran downstairs and started to hug and shake the boy's motionless body.
"I was across the road and I came over with a cousin and took him to the hospital where he was announced dead on arrival," Husbands recalled.
The saddened sister said it seemed as though Fiedtkou had a sign earlier of what occurred. "About four nights ago he dream a woman wearing all over white taking him away," she said, "and he was asking me after if it was an angel… Today [yesterday] when I went to see him, he look so peaceful like he was just ready to go," she said mournfully.
Husbands said her brother loved church, playing cricket and described him to be a very mannerly, funny, pleasant and intelligent child.
The second form student of Patentia Secondary School leaves to mourn his parents and six siblings.
Around the Web