Two teenage girls, one the daughter of AFC Region 4 Councillor Michael Carrington, disappeared on Tuesday night from the Yarrowkabra area and information gathered since suggests that they were abducted.
Missing are Marissa Carrington, 14, and LaShawn Ann Mootoo, 16, called 'Shawna,' both of Yarrowkabra, Linden/ Soesdyke Highway.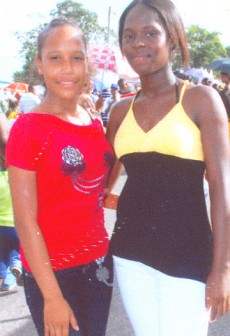 Stabroek News has since been told that Mootoo, who is the main witness in a High Court matter, was due to testify yesterday.
Police, this newspaper was told, are working on some very promising leads. In a press statement yesterday, police said that investigations are being conducted into the "alleged abduction" of the teens, which was reported to the police around 08:15 hours. Up to midday today there was no sign of the girls and searches were being conducted in several areas.
The two students left their homes in the company of each other at about 19:00 hours on Tuesday and have not returned since. "Based on the investigations so far, it is suspected that they may have been abducted," the statement said.
Meanwhile, a worried Carrington told Stabroek News that his daughter had accompanied the older girl around the area to sell custard. He said that they were last seen around 19:30 hours. He said that after they had finished selling, Mootoo apparently decided to follow Marissa out to the public road, which was the last time either of them was seen.
The politician added that on receiving word of their disappearance, several searches were conducted in the Yarrowkabra area but nothing was found. He said that he last saw his daughter on Tuesday morning when he left home.
According to Carrington the Diamond Secondary School student was her usual self and was preparing for her end of term examinations, which started on Monday. He stressed that the teen was never missing from home. He said that there is no conflict in the home that would led to Marissa wanting to run off. "She living happily with her brothers and sisters… I am convinced that someone is holding her against her will," he said. "I know my daughter".
Carrington informed this newspaper that the police are in possession of information that suggests that the girls are being held at an unknown location against their will. He said that at the moment that is the main focus of the police investigation. He noted too that the police are working very hard to find the teens. He said though that the area is big. "It needs the army or somebody to do a sweep," he suggested.
Meanwhile, Mootoo's mother Natasha Lord told this newspaper that she would usually accompany her daughter to sell custard after school. She attends the Achievers' Academy at Soesdyke. On Tuesday, however, she was in Georgetown and her daughter apparently decided to go with Marissa. According to the frantic mother, Marissa and sometimes a younger child would usually accompany her daughter when she is not around. The woman said that the area is a very safe one but sometimes incidents that occur at other sections of the Highway are wrongly linked with it. "We don't got problem like that here," the woman noted.
Lord said that the circumstances surrounding the disappearance of the children are very strange. The woman pleaded with the person/s who may be holding the teens to release them, saying "they are good girls."
The AFC at its weekly press conference yesterday afternoon said that it is seeking the public's help in locating the missing duo. Anyone who may have information on their whereabouts is asked to contact the AFC head office on 231 8183 or the nearest police station. Marissa was last seen wearing blue short pants and a brown top while Mootoo was wearing a black top and three quarter pants.
Around the Web