Relatives of Gyara Shurti Chunnillal, the Corentyne rice farmer who died on Tuesday, hours after being rushed to the Skeldon Hospital in an unconscious state, will have to wait until tomorrow for the cause of death.
The relatives of the 28-year-old man still have questions about the circumstances surrounding his death. At approximately 1:30 am on Tuesday, an unconscious Chunnillal was picked up by police on the Number 70 Village Public Road and he died later at the hospital.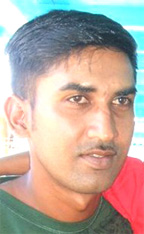 The dead man's cousin, Reshma Dhanai told this newspaper that Chunnillal was on his way home on his motorcycle after visiting relatives and friends in the area.  She said that there was no damage done to the motorcycle nor did Chunnilall sustain any bruise or broken limb.
A police source said that the man's death was being investigated as a murder.
His body is still at the New Amsterdam Hospital Mortuary awaiting the post-mortem examination.
Around the Web