Lakeraj Fredricks, 31, of 12 Independence Street, La Grange was yesterday jointly charged with a 16-year-old for the murder of Clifton Bonus.
The two appeared before Magistrate Ann McLennan at the Christianburg Magis-trate's Court. Based on instructions from the Director of Public Prosecutions the charge against the juvenile was withdrawn and a joint charge laid. The two are to return to court on July 13 for a report.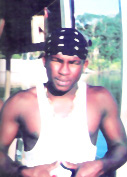 The police prosecutor signalled that he has 13 witnesses to call in this matter.
The juvenile had to be taken for emergency medical care at the Linden Hospital Complex after experiencing a fainting spell.
Bonus' body was discovered dumped in a gully in the backlands of the old airstrip at Linden and post-mortem results revealed that he died of haemorrhage which resulted from two gunshot wounds to the head. His body was found on June 8.
The magistrate ordered that the teen of West Watooka, Linden, remain on remand at the New Opportunity Corps, a juvenile correctional facility at Suddie, Essequibo.
Fredricks walked into the courtroom appearing to be very calm as the case against him was read. Clad in what appeared to be a brand new white figured shirt neatly tucked in a pair of black denim pants, the small featured man stood at one end of the dock while the teenager who appeared to be nervous and was sweating profusely stood at the other end.
The teen subsequently indicated to an officer that he was not feeling well and was handed a bottle of water. Shortly after returning to the holding room, officers were seen rushing off to the Linden Hospital with the boy who was reported to be experiencing fainting spells. He was admitted to the hospital and up to press time was being treated under police guard.
Around the Web