A third man charged with the marijuana bust at the John Fernandes Wharf was yesterday remanded to prison after making an appearance before acting Chief Magistrate Priya Sewnarine-Beharry, after CANU searched two cellular phones.
The allegation against Ola Pedro is that on June 16 at the John Fernandes Wharf, he conspired with a person or persons unknown to traffic in narcotics,  that is to say, to transport 393 kilogrammes 544 grammes of cannabis. Pedro pleaded not guilty to the charge which was read to him at the Georgetown Magistrates' Court One.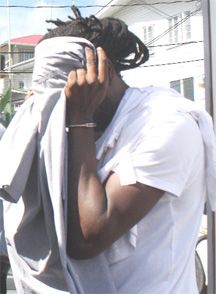 In presenting the facts, Special Prosecutor of the Customs Anti-Narcotics Unit (CANU) Oswald Massiah stated that stemming from the discovery of the 393.544grams of cannabis found in the container from Jamaica, additional investigation by CANU led them to the defendant. The court heard that acting on information given the defendant was questioned and arrested.
Massiah said further that a search was conducted on the defendant's person and two cellular phones were found, one suspected to have been purchased in Jamaica [with mobile roaming] and the other in Guyana. When the first phone was checked, it was discovered that a message came to the defendant bearing the number of the container in which the prohibited substance was found.
The other phone was also checked, the court was told, and it was found that the defendant had placed calls to one of the two defendants previously charged. However, Massiah explained that the defendant in question had already been arrested and was thus unable to take the call, but CANU was able to trace it. The defendant was subsequently charged with the offence.
At Massiah's objection, the defendant who is a salesman was denied bail by the magistrate and the matter was adjourned until July 5 when the other two defendants are expected to return to court.
Leyland Nichols and George Burrowes were remanded to prison on Tuesday after making their court appearance before  Magistrate Sewnarine-Beharry.
The allegation against the two is that on June 16 at the John Fernandes Wharf they conspired with person or persons unknown to traffic in 393 kilogrammes 544 grammes of cannabis.
The jointly charged duo denied the allegation.
Around the Web