Alliance For Change leader Raphael Trotman has described as "frightening" a recent directive from Police Commissioner Henry Greene to restrict divisional commanders from speaking with members of the press.
Trotman told reporters at the party's weekly press briefing on Wednesday that such clandestine behaviour suggests there is something to hide and noted that the directive can be considered dangerous given that it is an election year.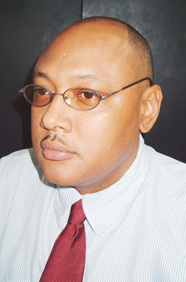 The AFC leader recalled past election years when former police commissioners, including Laurie Lewis, held regular briefings with the press in an attempt to disseminate information. "To see a contraction and a withdrawal of the force from the public [when you're supposed to be serving them] is quite frightening," he said.
Trotman added that  the instruction is a "retrograde step" as well dangerous given that the polls are just a few months away, and he called on the Commissioner to re-think the policy.
Further, he said the party will propose meetings with the Guyana Police Force prior to the elections being held and will raise the matter frontally during any engagement. "We believe it is palpably wrong and does take away the capacity of divisional commanders to make comments," he added.
It was reported a few weeks ago that Greene sent out a text message to divisional commanders saying that they are not to speak with the press on any police matters. The message is said to have been sent while he was in hospital recuperating.
Meanwhile, AFC prime ministerial candidate, Sheila Holder pointed out that Greene continues to serve in that capacity even after his term in office had expired. "I question how much longer he is required to stay there and under what legal instrument he continues to occupy the position as Commissioner of Police," she asked.
Around the Web