The World Bank yesterday approved a $2B (US$10M) loan to support the University of Guyana's science and technology faculty.
The curriculum will be overhauled, capacity building done and buildings and labs will be improved under the University of Guyana Science and Technology Support Project aimed at advancing Guyana's Low Carbon Development Strategy (LCDS). "The innovative research, contemporary facilities and institutional support provided by this project will equip the University of Guyana to respond to the needs of its society, find new ways to help local communities solve social and economic challenges and provide an important contribution to Guyana's LCDS," the UG's Vice-Chancellor, Lawrence Carrington, was quoted as saying in a World Bank press release yesterday.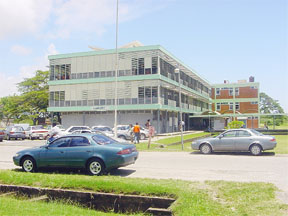 The World Bank said an estimated 6,300 students and faculty will benefit from this project, which will strengthen science and technology tertiary education in order to advance the LCDS.
Stabroek News was told that a World Bank team is expected here in a matter of weeks to ink the loan agreement with the Ministry of Finance.
The release said that the project will finance three components. The Education Quality Improvement Pro-gram will revitalize the University's science curriculum and support more applied research towards meeting the critical needs for the LCDS while the infrastructure rehabilitation aspect will include improving laboratory and building infrastructure at four faculties in a total of 14 buildings; providing these laboratories with scientific equipment to enable the delivery of practical science education and research as well as establishing a campus wide internet network.
The third component – Institutional capacity building – will support UG in managing, monitoring and evaluating the project as well as planning for future phases of its strategic plan.
The project directly supports university students and staff but the knowledge generated from enhanced research will also benefit the private sector, local communities, and international researchers engaged in rainforest conservation and biodiversity preservation, the release said. Stabroek News was told that some of the funding will go towards the setting up of the International Centre for Biodiversity Research, currently being discussed. UG is taking the lead on this.
The US$10 million credit will be employed over a period of five years and is provided by the World Bank's fund for the poorest, the Inter-national Development Asso-ciation (IDA), the release said. IDA has a 10-year grace period and a final maturity of 20 years, it noted.
"By supporting the University's faculty and students, this project will prepare today's researchers and students to have the practical knowledge and skills to meet the needs of tomorrow's low carbon economic and social development," Minister of Education, Shaik Baksh, was quoted as saying.
"The World Bank is proud to support the University of Guyana and the LCDS through this project which is well-aligned with Guyana's Country Assistance Strategy," said World Bank Director for the Caribbean, Françoise Clottes. "Improv-ing tertiary education will be critical to opening employment opportunities and meeting labor market demand as the country aims to develop its LCDS and the new skill set that this strategy will require."
Around the Web