The Licence Revenue Office (LRO) has implemented several new systems to simplify the processes for the purchase and renewal of licences.
This is according to Commissioner-General of the Guyana Revenue Authority (GRA) Khurshid Sattaur noted the LRO is one of the GRA's key agencies that has direct contact with taxpayers and interventions are being made to ensure that they comply with the law. During a media tour of the LRO's Smyth Street, Georgetown facility on Monday, he also said the recently implemented License Revenue Processing System, designed to track step-by-step transactions and has so far proven to be successful, according to a Government Information Agency (GINA) report.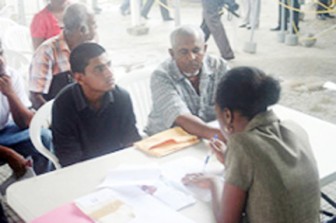 While several discrepancies have been identified, Sattaur was quoted as saying that "Every effort has been taken to reduce the usual congestion at the LRO, including the sale of licences at various offices and designation of a special day for issuing of free licence to yellow cabs."
Meanwhile, according to GINA LRO Senior Manager Wayne Austin said that since the start of the sale of motor vehicle licences on March 1, several steps were taken to improve the delivery of services and reduce processing time.
Several new measures were also implemented, including the provision of two additional cashiers for processing of the documents and the establishment of two help desks to assist taxpayers with immediate information. He also noted that seats were provided in the LRO's forecourt to ensure the comfort of taxpayers while their documents were being processed.
In addition to its Smyth Street office, the LRO has set up temporary locations at Wakenaam and Essequibo to facilitate the purchase of motor vehicle licences.
Despite these interventions the office faced several challenges, including the disruption to its network caused when lightning struck and damaged critical communications equipment, creating a backlog of work at the Smyth Street office. However, Austin said motorists who have yet to purchase their licences will have no difficulty doing so prior to the June 30 deadline.
Around the Web