The gold rush over the past years has not been a glittering one for the environment, with many new miners unaware of proper mining practices and others continuing to operate as they had done in the past.
The increased number of operations has seen a corresponding increase in environmental damage, says Rickford Vieira, the World Wildlife Fund (Guianas) Gold Mining Pollution Abatement Coordinator. "The sector is now bigger than it has ever been," he pointed out in a recent interview with Stabroek News. A new set of persons with little experience  are now involved in mining as well as operators with more earth-moving equipment, resulting in a significant increase in deforestation and pollution, he said.
A report done under the Guyana-Norway forest protection partnership last year showed that deforestation increased 87% for the first year of the partnership inked in 2009 as compared to the mean average from 2000 to 2009. The report said mining is the main driver of deforestation. A Stabroek News team on a recent trip to the Potaro mining district in Region Eight observed discoloured, silt-laden creeks and miners digging up the banks of the Potaro River – in contravention of mining regulations. And mining operations at Rockstone on the Essequibo River in Region Ten are threatening some of the major tourism activities responsible for the sustenance of the community and residents. The Guyana Geology and Mines Commission (GGMC) has also ordered the shut-down of several operations in the Konawaruk River in Region Eight, where major pollution was reported.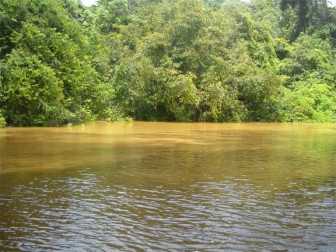 Acting GGMC Commissioner Karen Livan was unavailable for comment to Stabroek News despite many attempts to contact her over the past two weeks. When contacted, Chairman of the GGMC Board Major General (rtd) Joe Singh referred Stabroek News to Livan.
Questioned on the pollution caused by mining, Executive Director of the Guyana Gold and Diamond Miners Association (GGDMA) Edward Shields said that those who make the statements must bring proof. He said that the GGMC is managing the sector very closely and is active in what he described as the "most polluted area" at Konawaruk.  He said mines officers are making checks on a regular basis and currently this is the priority area for the GGMC. Officers have issued a lot of cease-work orders, Shields said. The Executive Director added that he would prefer to respond if the statements came from the GGMC and based on factual evidence rather than the "sound bites" provided by environmentalists.
Officials have spoken about the pollution caused by mining. Last month, the government handed over thirty-seven 500-gallon water tanks to the Amerindian community of River's View in Region Seven, after residents complained to President Bharrat Jagdeo that the Cuyuni River—normally used by them—had become contaminated due to mining activities over several years. Batavia, also in Region Seven, also received 37 tanks for its 300 residents.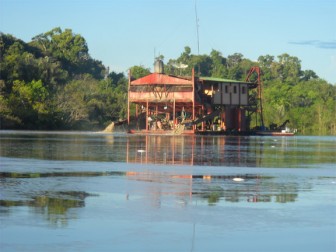 Vieira said that challenges are being experienced in regulating the sector. There is a "mad rush" by persons for the little land made available with everyone seeking to get as "much as fast as possible," he said. In addition, he pointed out, prospecting is not done and miners dig up the land, gambling that they would find gold. "Nobody is actually doing any proper prospecting and evaluating of these areas before they start mining, everybody going and start mining right away," he observed.
He pointed out too that areas that were not fully mined in the past because of the low price of gold are being re-worked in addition to the new areas. The high gold prices also favour more investment and with mechanisation allowing more material to be moved in a shorter space of time, pollution rises, he said.
Meantime, to his knowledge, reclamation and replanting of mined out land has not been happening, Vieira said. He said that miners with medium-scale operations are conducting their operations just like small-scale operators. "Its not that they are more mechanised or using more sophisticated equipment or anything like that," Vieira said. "Nobody does anything different because of the size of the property." He said that while the medium-scale miners have to pay an environmental bond, this is not making much of a difference. "The environmental bond is so small that it can't really do anything so most miners would probably feel that they should walk away and leave the bond instead of trying to do any reclamation. 
The WWF official said that Brazilian miners contribute to the "bad habits" here. "They've got some very bad practices" like sprinkling mercury in mining pits and sluice boxes, Vieira said. Brazilians are also one of the biggest players in river dredging and Vieira said that one of biggest concerns is that this is affecting river navigation and also increases sedimentation.
The WWF is concerned about the pollution and its effect, he said. "There's no biological study or assessment to determine what was there, what was the kind of aquatic species or so living there and when you put these high levels of turbidity inside of course, it will kill it, it will destroy the eco-system," Vieira said, echoing a statement by researchers who recently carried out a study on fish in the rivers.
He noted that the WWF has provided grants to organisations working in the sector and many are knowledgeable of the requirements expected of them. The legislation here is good but as techniques evolve and new people get involved, there is a need for changes to reflect the realities on the ground, Vieira said. "What needs to happen is that the laws supposed to be enforced properly," he added.  If the penalties are not sufficient, increase them, he said.
Vieira noted as well that there are now new players in the industry that may not be so knowledgeable and others have rushed into the sector. "Everybody wants a decent life and livelihood and right now with the price of gold, the opportunity is there for that," Vieira said.
He said that miners have a certain amount of responsibility as well. "They must not only depend on the regulatory agencies to enforce the laws, they themselves know is right and what they should do."
Around the Web