Police officials said they will continue to investigate the alleged abduction of the two Yarowkabra teens and are hunting for the four masked men, who reportedly snatched the girls last Tuesday, kept them at an unknown location and freed them on Friday night.
Alliance For Change member Michael Carrington who is the father of one of the girls said that until there is evidence otherwise, he believes the girls' explanation especially since they are sticking to it.
Police said in a press release yesterday that around 22:45 hours on Friday last Lashawn Mootoo, 16, and 14-year-old Marissa Carrington were found in the Timehri Racing Circuit area by relatives and police ranks. "This was after information was received by the brother of one of the teenagers, by way of a text message from her, that they had been released by their abductors," the release said before pointing out that the police are making enquiries into their story.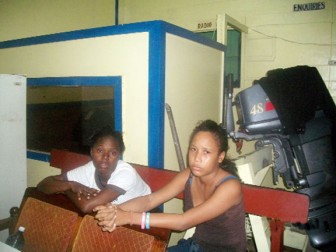 The two were reportedly abducted from Yarowkabra, Linden/Soesdyke Highway where they live last Tuesday. The abduction took place around 19:00 hrs while the older teen was following Marissa out to the public road.
Following their disappearance, an intensive search was carried out in Yarowkabra, Dora and Timehri by the Joint Services and relatives with the assistance of members of the public.
Hours before they were found, Carrington had called on owners of 4×4 vehicles to join the search. He had explained that the sandiness and the layout of the land were posing a challenge for searchers. The Region Four councillor had burst into tears while speaking to this newspaper.
Yesterday Carrington told Stabroek News that both girls who clearly looked exhausted were taken to the hospital for medical check ups. He said their faces were noticeably swollen, either the result of crying or the trauma they had gone through.
Carrington said that "I feel good and happy that they have been found. I must thank everyone who helped us. I must thank God because our prayers have been answered." He said he hoped that another parent would not have to endure such an unpleasant experience.
The politician said that according to the explanations given by the children, it was four men who abducted them; one was slim while the others were big-built men. They said that they were unable to see their faces which were concealed with what appeared to be knitted hats.
"All they did was snatch them, put their head down corked their mouth, and carry them to a building. They don't know where the building is. They locked them up inside bring water and food when they think they should eat. Just lock them up and basically not telling them anything," he said.
According to Carrington, the teens said they overheard one of the men saying that they would release them around Thursday.
He recalled that when he got a call stating that they had been released he felt happy. He said his son immediately contacted the police and they left Yarowkabra for Timehri, which fitted the description of the place the girls said they were.
"They [contacted] my cell phone. Shawna was doing all the texting, she [Marissa] was only crying I was made to understand. When Shawna [texted] she said that they were somewhere, where the place dark and that they seeing some bright lights. It looked like the airport somewhere about the area 'y'all come for we quick'. That was her message to us," the relieved father recalled.
He added that they found the girls who were soaking wet, before the police arrived. At the time it was raining.
"I am just happy that they are both back home," he stressed.
Thorough investigation
Carrington appealed to the police to continue their investigations and to get to the bottom of the matter which is continuing to baffle him. He said he is looking for answers.
Asked if his daughter was abducted with the intention of getting to him, he responded that either girl could have been the target; Mootoo who was the victim in a High Court matter and Marissa who is connected to him.
He said he repeatedly asked the girls if they were lying and kept responding in the negative. They kept repeating the same story.
"They keep saying that they are not lying. The people just picked them up. They didn't do them anything. Like the people just wanted to send a message like to somebody and they don't know why they did it," he said.
"I could tell you the honest truth. It's baffling me. I questioned them like a detective especially my daughter not Shawna. I questioned her backward and forward and she keep holding onto one point that they pick her up."
Carrington said he has asked the police to investigate the matter thoroughly.
"I wanted to know if someone is after me or want to know if it is the children. I believe in the children what they have said. You make your child but you don't make their minds but I still believe until I see other evidence that is not so," he said.
Around the Web