The absence of a police witness has stalled the Babita Sarjou case, in which Anand Narine is accused of circulating nude photos of his former wife.
Detective Sergeant Mitchell Caesar for whom an arrest warrant was issued has not been attending court to testify in the matter.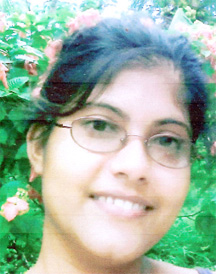 Magistrate Geeta Chandan Persid-Edmond who is presiding over the matter at the Georgetown Magistrates' Court issued the warrant for Caesar's arrest on June 13. When the matter was called again Thursday, however, the sergeant was a no-show.
The prosecution subsequently reported to the court that the police officer had not yet been arrested as he could not be located.
Thursday was set for Caesar to testify in the matter. Meanwhile, the warrant for his arrest remains in effect.
The matter has now been adjourned to July 1.
In the harassment matter of the missing mother of one, Sarjou's former husband Narine is accused of the August 31, 2010 offence which states that at Georgetown he exposed pictures of her to public view to corrupt public morals.
Narine is alleged to have plastered copies of a nude picture of his former wife Sarjou, who has been missing since the night before Diwali 2010, in public including on the fence of her then place of employment, BK International.
The man who denied the charge has been admitted to bail in the sum $75,000.
In August last year, months after Sarjou was hired at BK International, employees arrived at work to find printouts of a nude photograph of the young woman pasted on the fence and on trucks belonging to the company.
Around the Web