A vehicle transporting lumber yesterday turned over resulting in the death of three persons: a father, his son and another relative, while one other person was seriously injured.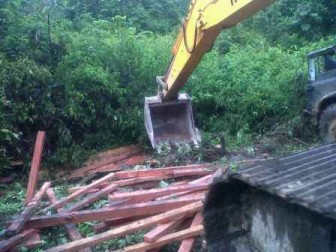 The four persons were travelling on top of the vehicle at the time of the accident. One source from Matthew's Ridge said that the vehicle was approaching a hill when it got too close to the edge of the road and toppled, pinning the quartet.
One of the dead persons has been positively identified as Deon Baptiste. Abrams is the surname of the father and son. The son is said to be 13 years old.
Police today said investigations revealed that the driver of motor lorry GMM 2716 was proceeding along the roadway when he lost control of the vehicle as he was negotiating a turn which caused it to turn over.
This resulted in injuries to the driver Godfrey Austin, Leon Abrams, Trevor Abrams, Deon Baptiste and other persons who were travelling in the tray of the vehicle.
They were all taken to the Matthews Ridge Hospital where Leon Abrams, Trevor Abrams and Deon Baptiste were pronounced DOA while the others are receiving medical attention.
Around the Web