Two men and a woman were yesterday accused of attempting to kidnap the son of a lumberyard businessman, as part of what police said was a scheme to target the family members of the rich.
Carl Krishna, Vishnu Ramnarine and Susan Kalimootoo were not required to plead to the indictable charge of conspiracy to commit a felony, when it was read to them at the Georgetown Magistrates' Court by acting Chief Magistrate Priya Sewnarine-Beharry. They were later each admitted to bail in the sum of $400,000.
The allegation against the three accused is that between June 1 and June 25, they conspired with each other to wrongfully confine Christopher Mohabir against his will, for a ransom between $50 million and $60 million. The court was told that Mohabir is the son of a lumberyard businessman.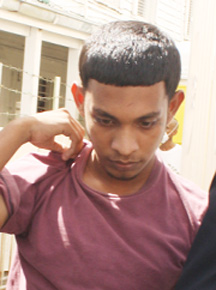 In presenting the prosecution's facts, Police Sergeant Vishnu Hunt told the court that the defendants are known to each other. He said on June 22, the police, acting on information received, went to Krishna who confessed that he and others had a plan to kidnap rich businessmen's families. The police were equipped with a recording device at the time and according to Hunt, the entire conversation with Krishna revealed that Mohabir had been identified as one of the possible victims.
The court then heard that Krishna told the police that Kalimootoo provided the name and address of Mohabir, while Ramnarine was tasked with the responsibility of providing a firearm and safe place to keep him.
Hunt said they were all later arrested and charged.
The prosecution had no objection to the accused being granted bail but requested that it be set in a substantial sum.
Krishna, a trainee mechanic, was represented by attorney Vic Puran. Meanwhile, Ramnarine, 18, a cell phone technician of 34 Turkeyen, East Cost Demerara, was represented by attorney Jerome Khan. Kalimootoo, 22, of 85 East Meten-Meer–Zorg, West Coast Demerara, was unrepresented by counsel.
Puran and Khan requested that their clients be admitted to reasonable bail, stating that they had no antecedents, posed no risk of flight, had fixed addresses and were anxious to clear their names of the allegations levelled against them.
After listening to the prosecution and defence, the magistrate informed the defendants that their pre-trial liberty had been granted on condition that those who are owners of passports lodge same with the police. She ordered also that they report to Constable Melville at the CID Headquarters, Eve Leary every Monday and Friday.
The case will be called again on July 21.
Around the Web