Buxton residents yesterday decried the poor response from ranks at the Vigilance Police Station to reports of crimes coming from the community.
This issue and others were raised at a Community Policing Group (CPG) outreach held at the East Coast Demerara community. Minister of Home Affairs Clement Rohee expressed disappointment in the policemen and assured residents that action was already being taken against the offenders.
Residents also highlighted the need for more patrols in the area to help curb the practice of youths "liming and smoking on the [street] corners" and for adequate lights in the area, a Government Information Agency (GINA) release said.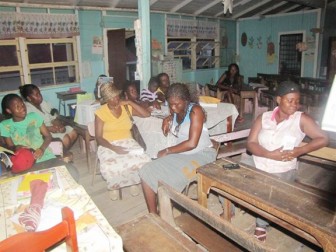 The GINA release further reported: "Minister Rohee stated that Buxton is a part of Guyana and Government knowing that they are obligated to the residents of that community since there are here to serve every community in the country…is pleased to listen to the concerns of residents".
He also advised residents on the proper procedure a policeman must follow when searching a home and again expressed dissatisfaction at the manner in which residents are being treated by police at Vigilance. Similar reports, Rohee told the people, have come from residents in villages along the East Coast of Demerara.
Rohee, according to GINA, also told residents that the training component of the Citizen Security Programme ensures that youths who drop out of school are being trained in life skills. Buxton, Rohee explained, has fulfilled its quota for training individuals but there is still a high demand for the training to continue. This, the minister said, is evidence that Buxton is taking advantage of the programme.
Meanwhile, Commander of Police C Division Assistant Commissioner Deryck Josiah told residents "the hierarchy of the Police Force is aware of what had taken place at the Vigilance Police Station and some delinquent ranks have already been transferred to varying locations, some were sent home and others were dealt with internally".
The Home Affairs Minister has embarked on a countrywide outreach programme which aims at listening to problems and providing solutions. It aims to promote better relations between police and the public so as to make crime fighting easier and more effective.
Rohee and his team will meet with Strathspey residents at 5.30pm today.
Around the Web