Two of Suriname's most wanted criminals, including a Guyana-born man, were last night seriously injured during an operation by the neighbouring country's Counter Terrorism Unit (CTU) and another man was mortally injured.
According to Star Niews the country's police spokesperson Humphrey Naarden confirmed that Guyanese Poeran Gopi, 32, and Ricky Sardjoe, 33, who were earlier this year listed as among the country's ten most wanted men, were injured and captured in Nickerie shortly after they had reportedly returned from Guyana.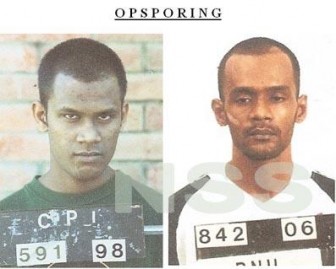 The report said four men were in the gang during the operation which took place at around 11 pm while they were enroute to Paramaribo. They had stopped at a supermarket unaware that CTU members were giving chase and while one handed himself over to the lawmen the others attempted to flee. The CTU members fired upon the car and one of the men was killed while Gopi and Sardjoe were seriously wounded and taken to a local hospital. The car which they were in was said to be "loaded with weapons."
Star Niews had earlier this year reported that Gopi was born on January 26, 1978 in Guyana. He lived on the extended High Street 4 no. He and Sardjoe were said to be leaders of a gang involved in several robberies. They were described as armed and dangerous.
Around the Web