The Intraserv bus service between Lethem and the coastland has ended and might only be restarted if the trail is upgraded.
The state of the trail over the past several weeks had forced the Intraserv Incorporated bus service to suspend its service initially but the company later decided to decommission the operation citing a number of difficulties associated with the roadway.
The 45-seater buses operated by the company  had been making weekly trips to and from Lethem over the past seven years and while the journey lasted longer when compared to trips made by the smaller buses which ply the route, the company earned a good reputation with its clientele.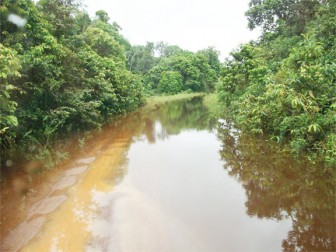 Carol Correia, of Intraserv, told Stabroek News yesterday that the company took a "hard decision" to cease operations at Intraserv, while adding that it had been looking at closing the operation some two years ago when sections of the roadway disintegrated during the rainy season.
She said that the buses were making regular trips to and from Lethem but the road's condition had made servicing and general maintenance of the buses difficult for the company, which was a joint venture between the Correias and a Brazilian company.
Some 16 persons were employed directly with the company, mainly as drivers, ticketing clerks and conductors but Correia stated that a number of other individuals whose services benefited from the bus operation may be affected by the closure of the service.
It was noted too that the buses were losing their passengers to the smaller buses and Correia stated that this may have been as a result of the frequent breakdowns which the Intraserv buses experienced when travelling along the trail. She said that the problems would have been related to the state of the thoroughfare. She added that the buses may return to the route provided that the trail is upgraded.
During the rainy season, the drivers of large vehicles which travel to and from Lethem experienced difficulties traversing the roadway, which had been deteriorating frequently as the rains stepped in.
Recently, traffic along the trail reached a standstill after heavy rains pounded sections of the hinterland, resulting in large volumes of water accumulating in the surrounding areas.
Repair works to the Lethem trail had been on-going at the difficult sections of the road and this newspaper understands that traffic has been flowing to and from the Region 9 area and Georgetown with minor interruptions.
The stretch of road close to the Pirara Ranch remains the "only problem area," a resident of Lethem stated yesterday, while adding that the roadway  passing through the area had been "loose" in most parts as a result of the accumulated water, which would have been there for close to a month.
There had been calls from residents and members of the business community at Lethem for the authorities to upgrade the trail to an all-weather road.
Around the Web