Minister within the Ministry of Health Dr Bheri Ramsaran presented a pick-up truck to Region One to boost the delivery of health care in all the villages.
According to a Government Information Agency (GINA) press release the keys to the vehicle were presented to Hinterland Coordinator attached to the Ministry of Local Government Harrripersaud Nokta. Ramsaran said that a new vehicle was needed to traverse rough terrain, particularly to respond to persons suffering from malaria and other vector borne diseases. He also said there is need for the hospital to be rehabilitated.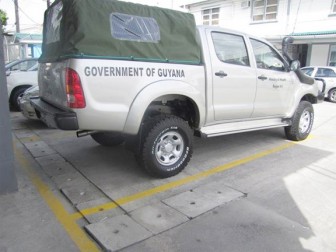 Ramsaran also noted that the Guyana Geology and Mines Commission (GGMC) has collaborated with his ministry on the initiative. GGMC Commissioner (ag) Karen Livan said that the agency has been active in the interior regions and it has provided $50M to assist in restoring the damaged road between Matthew's Ridge and Port Kaituma in Region One.
Livan said there is a wider initiative that extends to other mining communities, including at Mahdia and Monkey Mountain in Region Eight. In the North West, a skills training centre has been established to boost the skills of individuals in these areas, along with a plant nursery that provides practical assistance to the secondary schools and seedlings for mine site reclamation.
GINA also said a school bus has already been provided to the Matthew's Ridge community, which President Bharrat Jagdeo had committed to providing during an outreach exercise in the area in March.
Around the Web