CARICOM is bestowing its 10th Caribbean Community Triennial Award for Women on UWI Deputy Principal and gender professor Dr Violet Eudine Barriteau.
In a press release, the CARICOM Secretariat said the award is being given in recognition of Dr Barriteau's "remarkable contribution to the field of gender and development" and her role as "a powerful exemplar of self-respect, self-discipline, vision and leadership."
CARICOM's acting Secretary-General Ambassador Lolita Applewhaite, who made the announcement at last Friday's Media Clinic ahead of the 32nd regular Conference of Heads of Government of the 15-member grouping, said the award will be presented to Dr Barriteau at the opening ceremony of the Conference in St Kitts and Nevis tomorrow.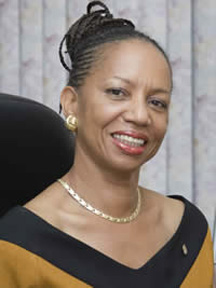 According to the release, Dr Barriteau is a Grenadian-born Barbadian citizen who has served both the regional and national education sector with distinction for nearly 40 years, first as a classroom teacher of History and English, then as a researcher and professor of gender studies, and now providing academic and administrative leadership in the capacity of Deputy Principal of the Cavehill campus of the University of the West Indies. Dr Barriteau's illustrious career is underpinned by an equally impressive academic sojourn, which took her to the rung of Doctor of Philosophy in political Science, earned at Howard University. A strong advocate of gender and development, she has made extraordinary contribution to the advancement of women's empowerment and gender equality, through her advocacy, teaching, research and publications.
A prolific researcher, writer and presenter, she has authored one book on gender – The Political Economy of Gender in the Twentieth Century Caribbean, contributed articles and chapters to a plethora of publications and edited several others, while finding time to make presentations at national, regional and international seminars primarily on gender related issues, the release added. Dr Barriteau joins a band of nine select women who have made significant contributions at the national and regional level in various fields of endeavours that have impacted the social and economic development of the Community.
The Triennial Award for Women was introduced in 1983 to recognize and honour Caribbean women who have made significant contributions to socio-economic development at the national and regional levels. The first award was bestowed on Nesta Patrick, national of Trinidad and Tobago, in 1984. Thereafter, eight outstanding Caribbean women have received this prominent award "for their dedication and determination in broadening the parameters of existence for women and improving their economic, social, political, cultural and legal status. They are: the late Dame Nita Barrow, national of Barbados in 1987, Dr. Peggy Antrobus, national of Grenada and citizen of St. Vincent and the Grenadines, 1990; Ms. Magda Pollard, national of Guyana, 1993; Dr. Lucille Mair, national of Jamaica, 1996; Professor Joycelin Massiah, national of Guyana and citizen of Barbados, 1999; Professor Rhoda Reddock, national of Trinidad and Tobago, 2002, Justice Desiree Bernard, national of Guyana in 2005; and Dr Barbara Bailey, Jamaica, in 2008."
Around the Web