A settlement of over $40M has been awarded for the fire that gutted a business, at Anna Regina, Essequibo Coast earlier this year.
North American Fire Insurance Co. Ltd (NAFICO) Fire Manager Yogindra Arjune yesterday handed over the fire claim cheque to a representative from Raj Singh Insurance (RSI) Brokers and Risk Management Consul-tants Inc.
The two-storey wooden and concrete building, which was rented to a Georgetown cambio dealer at the time, was ravaged by fire on the morning of February 11. The claimant was reluctant to have his identity released for security reasons.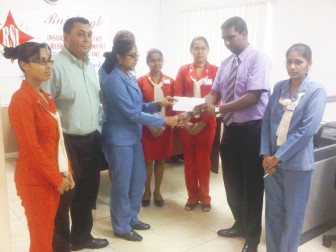 Rajendra Singh, Chief Executive Officer of RSI Group of Companies, during his address, stated that negotiations and the amicable settlement to the fire claim have been successfully concluded. The final settlement is in excess of $40,000,000.
"This settlement was reached after exhaustive negotiations by this firm of brokers and the adjusters, Yeadon & Associates of Barbados in conjunction with the insurers, North American Fire & General Insurance Co. Ltd, and we are happy to announce that all parties are satisfied with the pace, tone and professionalism that was attached to these negotiations," Singh said.
He added that the fire, which destroyed the business premises of their client, caused tremendous hardships for their mutual client and affected his business significantly.
The fire, Singh explained, was a result of an overload of an electric transformer which caused overheating and subsequently ignited insulation and spread to nearby combustible materials.
He noted that such fires are becoming more prevalent and there is an urgent need for the appropriate authorities to educate and regulate the effective implementation of more fire prevention measures to assist in controlling such unnecessary fires.
Around the Web