President Bharrat Jagdeo recently installed Harold Dabydeen as Deputy Mayor of New Amster-dam, a post which he served in from 1994-1995.
According to a Government Information Agency (GINA) press release Dabydeen has 17 years of experience in the municipality, some of which he served in the role of Councillor.
In his address to the media, Dabydeen said he plans to focus on two priority areas: solid waste management and drainage and irrigation. He also vowed to return the town to its former glory days and has set a target of 18 months in which to achieve this goal.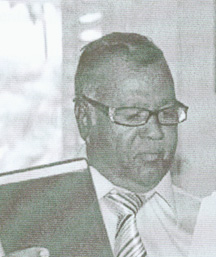 Dabydeen said efforts are being made to educate residents about the plan to return pride to the town. "People are not maintaining the pride of the township and that is one of the things that the municipality will have to work to see how the people can bring back the pride," he said.
GINA said the council recently acquired a bobcat and small excavator for drainage and garbage clean up purposes and, according to Dabydeen, efforts are being made to increase the municipality's subvention and acquisition of more machinery to fortify its municipal undertakings.
Around the Web