The Ministry of Home Affairs is assessing the type of equipment and skills it would need for the $450M state-of-the-art forensic laboratory which will be constructed at UG's Turkeyen Campus and which is expected to be completed by May 2012.
Minister of Home Affairs Clement Rohee told the Government Information Agency (GINA) that his ministry is currently considering the type of equipment that the lab would need, in addition to those that the police use. He also said the ministry has started to formulate a human resource recruitment plan for the facility as "We have to give priority to the human resources because we don't want to purchase a whole lot of forensic lab equipment and at the end we don't have people to work with those tools."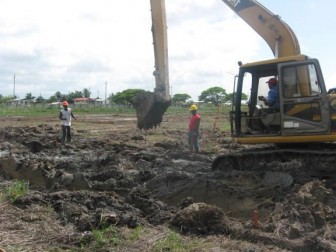 The Courtney Benn Construction Company is working on the foundation and the consultants and the contractors on getting the project moving, the release said. Project engineer Ravi Coonjah said sub-structure work has already started on the main building of the lab and "Vikab Engineering consultant limited will have a full time representative on site supervising the work and ensuring that conformity of agreement is met." Coonjah is also optimistic that the May 2012 deadline will be met.
According to GINA, government recognises the need for more advanced technologies to enhance the police force's crime-fighting capacity and as such several groundbreaking initiatives have been taken to equip the security sector with the necessary tools.
The sod-turning ceremony for the lab was held in September following an agreement inked with the Inter-American Development Bank as part of the institutional strengthening component of the Citizen Security Programme. "The lab is expected to significantly improve local forensic capabilities thereby enhancing the security sector," GINA said.
The PPP/C government has been severely criticized for not taking earlier action on a forensic lab particularly since it has been in office since 1992.
Around the Web