Terron Alleyne
Terron Alleyne scored a first for his school, Regma Primary at Linden, yesterday when results of the National Grade Six Assessment (NGSA)  revealed that he had topped the country, gaining 537 marks out of a possible 551.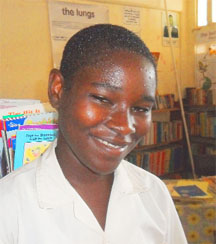 Speaking to Stabroek News yesterday, Terron said he was at home when he got the news and was totally shocked. He said that he was very committed to his studies, but was also committed to having play time. He said that it was a lot of hard work as he also attended extra classes. "I didn't expect to top but I knew I was going to do well," he said. Terron lives with his older sisters, since his mother resides overseas and his father has been back and forth working at different locations around the country. All of his teachers and siblings said that from grade one he has been an 'A' student never getting below 80%.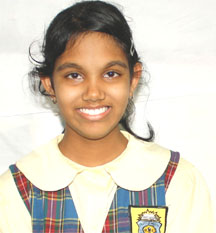 Sariah Singh
When Stabroek News asked 11-year-old Sariah Singh how she felt about placing second nationwide, she said, "I am so relieved and happy. I didn't expect to do so well. I thought I would get Bishops' [High School] the most." Because she didn't attend any extra lessons, Sariah said, she had to study until late hours of the night and had to cut out watching television from her routine. The ABC Academy student who earned 536 marks said she is grateful to her teacher, Sir Chandra, her parents and her sister. This aspiring cardiologist advises the children writing examinations next year to "stay focused and pay attention to your teachers."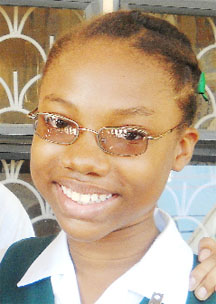 Sarah David Longe
Sarah David-Longe of Success Elementary School shared third place with two other students, gaining 534 marks. "I can't find words… I am very excited and I am satisfied with my grades," she said. Sarah said Social Studies was a little hard but she was happy that her preparations for the examinations paid off. She also thanked her parents, who were a constant support, while adding that her motivation for success will always be one of her main priorities. Sarah, who wants to be a lawyer, says she believes "prayer is the key to great success." cess."

Angelie Persaud
Angelie Persaud of CV Nunes Primary, who also placed third, said she was calm after receiving the good news. Speaking with Stabroek News at her home, Angelie said she was "not too over excited" since she expected it. She said she spent most of her free time reading. Her favourite subjects are Science and English. Angelie who said she would like to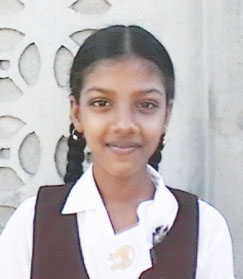 become a doctor, expressed thanks to her class teachers especially Ms Sybil Munroe who gave her extra lessons.
Her advice to those who will be writing the exam next year is to study hard, have faith in God and confidence in themselves.

Carol Hopkinson
"I am not at all surprised because I know that I worked really hard," said Carol Hopkinson. The Queen's College bound student said that throughout her primary school years she has been doing well but got even more serious with her commitment to her school work when she entered grade six. Carol said her parents and teachers are to be complimented for her success because they put their all into ensuring this outcome. Carol,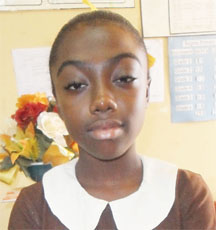 a classmate of the country's top student Terron Alleyne, gained 534 marks and earned third place in the country.

Teryka Mohabir
Teryka Mohabir, another Regma pupil, also complimented her parents and teachers. "I feel proud of myself. Finally all the hard work has paid off," said Teryka, who found it difficult to stop smiling and laughing at intervals. The elated Teryka said that at times it seemed her class teacher Cheryl Wills was doing too much, but said that she is now rewarded for the sacrifice. She noted that it is a practice that children credit their parents for their success whether or not they supported them 100%. She said that in her case it is not just talk as her parents were 100% with her throughout Grade 6. She attended several support class sessions after school, getting home after 10 o'clock at night. She is confident that her parents will be doing all in their power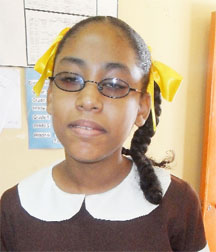 to ensure that she attends QC although she lives at Linden.  Teryka gained 533 marks.

Thalia Baeza-Milan
Thalia Baeza-Milan of School of the Nations also gained 533 marks. "I'm really happy and surprised," was this 11-year-old's response, when asked how she felt about placing 6th in the country. With English as her second language, Thalia worked and studied hard every day. She attended extra lessons at her school six days a week. She also said she pushed herself every night, aiming for a place at Queen's College where she plans to start school in September.  Her success, she said, would not have been possible if it weren't for her teachers at Nations, her mother and her grandmother. When asked what advice she had for students writing SSEE next year, Thalia remarked, "Studying is one thing, but you need to have confidence."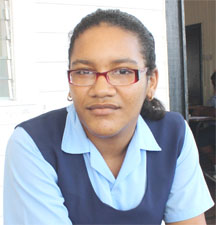 Kareem Abdool
"I feel surprised and satisfied. I can definitely say that hard work really produces success," said Kareem Abdool, who also credited his accomplishment to the constant support of his parents, teacher Wilfred Success and the divine wisdom that God gave him during the examination period. He advises other students to stay focused and to persevere. "You have to be determined at everything that you want to achieve in life," he said. His goal for the future is to become a magistrate. Kareem, a pupil of Success Elementary School gained 533 marks.

Narissa Persaud
Narissa Persaud of Leonora Primary School gained 532 marks. "I am very happy and anxious. For me, it is a beginning of my success in life," said Narissa, who credited a lot of reading for her success. "Reading is very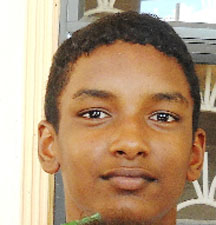 good. I did a lot of reading during my exam period and a day like today I can say that it really pays off," she said. Narissa was also grateful to her parents and teachers for their guidance. She is very glad that she will be attending QC in September and stated that she wants to become a doctor.

Shafeek Rayman
Shafeek Rayman of Dharmic Rama Krishna Primary School is also headed to QC. "I'm feeling very elated and happy. I was expecting to place in the top 100, and I wanted to go the Queen's College. I would like to become a businessman when I grow up, because I'm very good at mathematics and I like mathematics," the excited student said. Shafeek thanked "God first for making me do this, then my teachers, my parents and my aunties. I had to stay up late at nights to study." He advises others to work hard and they will achieve their goals. Shafeek gained 531 marks.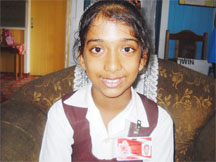 Edmund Henry
Edmund Henry of the New Guyana School, who also gained 531 marks, said: "I am very happy and relieved that all my hard work has paid off." Edmund said he studied but mixed it with play, and asked God to help guide him through his examinations. "I would like to thank first and foremost God, for always being by my side, my parents, my teachers from Kindergarten straight to Primary Four and my Headmistress for teaching me and being Headmistress all at once." Edmund plans to go to QC in September and is pursuing a career somewhere in the field of medicine. His advice to future students of the exam is "Study smart, pay attention in classes, ask God for guidance and don't be over-confident but have a certain amount of self confidence." Edmund plans to celebrate his accomplishment by relaxing and taking a trip to the United States.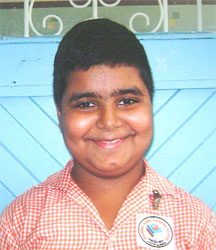 Brassette Henry
"Excited" and "happy" were the words 11-year-old Brassette Henry used to describe her emotions about her excellent performance at the NGSA. Brassette said she was very confident that she would have gotten QC and is happy she that will get to attend the school in September.  This future dentist said she went to lessons every day and studied hard every single night. Her advice to students writing the exam next year is "Study hard and never give up". Brassette, pupil of Mae's Under 12, gained 530 marks.

Ronaldo Mc Garrell
Lawyer in the making Ronaldo Mc Garrell of Green Acres Primary, also scored 530 marks to share 12th place with two other students. "I feel happy and excited," he told Stabroek News. "I'm thankful to my teachers; especially Miss Thorne, my parents and mostly I'd like to thank God because I prayed and He helped me through my test." He encourages others to "study hard, pray to God to help you through the test."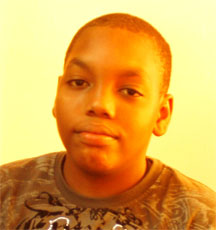 Ryan Benschop
Ryan Benschop of Concord Academy, who shared 15th place with five other children, said he expected to be among the top students. "I feel excited and I'm grateful to God, my teachers and my parents, and all the others who supported me," Ryan said. He said that his parents helped him with his homework, and in school his teacher Mrs Vilma Cromwell helped him.
"I always wanted to go to Queen's College so I'm satisfied," he said. Ryan, whose favourite subject is Mathematics, said his ambition is to become a neurologist. He advised students who will be sitting the assessment next year to "work hard and it doesn't matter if you don't have the natural ability, just work hard and dedication will get you there." Ryan scored 529 marks.

Kara Abrams
Kara Abrams, a pupil of Success Elementary also gained 529 marks. "I am very excited and pleased," Kara said. She added that her determination to succeed has taught her that she can accomplish anything as long as she puts her mind to it. Her advice to fellow students is "study hard… and do not give up [no] matter how hard things might be." Kara said her teachers motivated her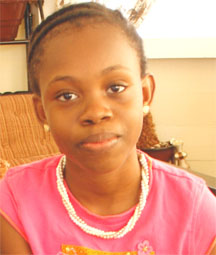 and assisted her throughout her examination period. She is anxious to begin classes at QC in September and said she would like to become a doctor one day.
Tanesha Johnson
Tanesha Johnson of North Georgetown Secondary was overwhelmed, when she learnt that she had gained 530 marks and a place at QC. "Words cannot express how I feel. I have to thank God, my parents, my aunt, my headmistress Miss Yvette Williams, and my lessons teacher Miss Carol Joseph," Tanesha said. She was so excited, she could hardly sit still to conduct the interview and have her photo taken. Tanesha, whose favourite subject is science, wants to become an obstetrician. She advises other students to "work hard".
Maya Persram
Ten-year-old Maya Persram of Marian Academy gained 529 marks. She told Stabroek News that she was "really happy" about her results but she was not surprised and always knew she had the potential to get either QC or Bishops'. Maya is not yet sure whether she will be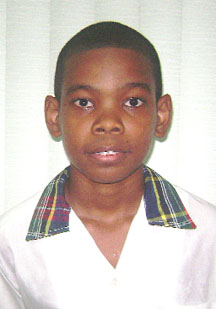 attending QC, but is definitely sure about her aspirations to become a doctor. She says she owes lot to her dedicated mother, who worked with her every night, and also to her teachers at school. Maya's advice to the next batch of students writing the NGSA is, "Keep studying and working hard, and even when you think you won't get it, don't give up."
Christina Crammer
Christina Crammer of Success Elementary also gained 529 marks. Christina said she was very happy with her results, although she thought she could have done better. "Determination is the key to pass any exam," is the advice she would like to give to fellow students. She added that without God, her achievements would not have been possible. Christina said that she would like to become a paediatrician.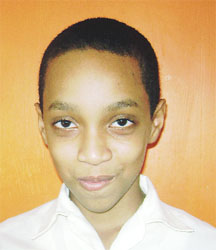 Sangeeta Singh
"I am very satisfied and proud and I am glad that I have made my parents very happy," said Sangeeta Singh of Saraswat Primary. According to her, students hoping to be successful should know that "success comes from hard work" and "education is the key success." She also said that she would not have been successful without the help of God, her parents and the staff of her school. She hopes to become a lawyer one day. Sangeeta gained 529 marks.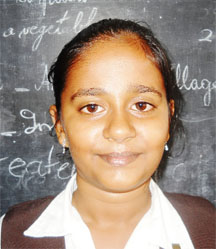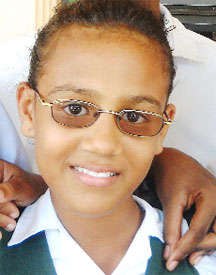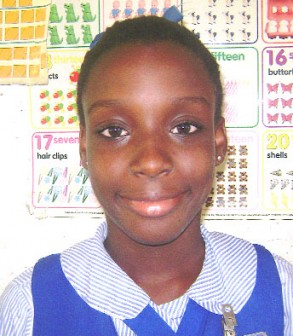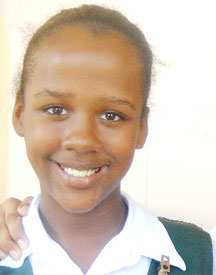 Around the Web