Fire suspected to be electrical in origin destroyed a section of the Ameerally Sawmills at Strand, New Amsterdam around 3:40 am yesterday resulting in millions of dollars in losses.
Contracts manager, Roy Jafarally told Stabroek News that the fire devastated the operations building, damaging several pieces of equipment including winches, gang saws, band saws, gantries and circle saws.
It also caused destruction to a 440 volt cable, a 350 horsepower gear box, logs, boards and zinc sheets.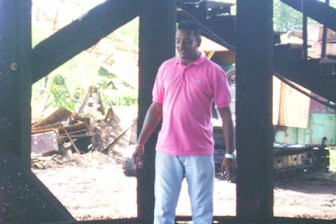 He related too that the disaster would result in the sawmill being out of operation for a 90-day period. During this time the services of the logging grants, tug and barge crew, operators and labourers would be reduced.
He said it is expected that during the closure engineers from 'ESTERER' which manufactures the gang saw, would be hired to fix the equipment. The gang saw became inoperable after it was doused with water during the fire-fighting efforts. Fire tenders responded in a timely manner and Jafarally was pleased with the efforts of the fire-fighters to bring the blaze under control.
He said the watchman became aware of the fire and immediately alerted the supervisor, Raywat Sankar who resides in the compound.
Sankar in turn informed Anthony Ameerally, owner of the business entity that has been in operation for over 80 years, before calling the fire service.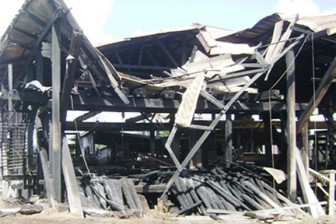 Jafarally pointed out that the business did not use standby generators because "we have a monthly business premium plan of $450,000 with Guyana Power and Light (GPL) for a three phase power supply of 110, 220 and 440 volts, in addition to our monthly usage."
He said too that the only lights that were left on during the nights were security floodlights with breakers.
Meanwhile, the fire is being investigated by the power company and the Guyana Fire Service.
Around the Web