The University of Guyana (UG) hosted a brief ceremony on Monday to mark the commissioning of ramps and other installations as it embarks on creating an enabling environment for persons with disabilities.
In a press release the university said three washrooms and three ramps and assistive technology including a quantity of computer software and hardware, as well as furniture for visually, hearing and mobility impaired persons were installed at the Turkeyen Campus.
An overview of the project to assist differently-abled persons was given by Stacy Peters-London, Planning Officer in the Office of Resource Mobilisation and Planning. Brief remarks were also made by Deputy Vice-Chancellor Dr Marlene Cox, US Embassy Charge d'Affaires Thomas Pierce and Chairman of the National Commission on Disability Evelyn Hamilton also lauded the initiative.
The university said in September 2008 it received $5M from USAID Disability Fund after it had submitted a proposal for the upgrading of its library to allow some sections of its holdings and services to be accessible to persons with disabilities. It then consulted with several disability-related organisations to provide an appropriate collection of assistive technology to create an enabling environment, particularly in the area of information access.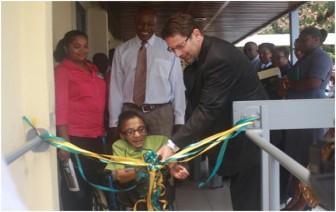 UG submitted another proposal in December 2008 for the Ambassador's Self Help Fund to provide access to sanitary facilities for persons with disabilities. UG benefited from a grant valued $1,600,000 earmarked for the construction of washrooms across the Turkeyen Campus. It was used to build washrooms and ramps at the Education Lecture Theatre, the Centre for Information Technology and the Arts building at the School of Education and Humanities.
Students from the Department of Architecture along with their supervisor and lecturer William Harris prepared the drawings for the construction of the ramps and washrooms as part of a class project. They are Sheldon Williams, Osbert De Costa, Clive Williams, Thalia Moore, Travis Wills, Myron Tucker, Jamal Alexander and Sheridan Wood. The contractor was Gregory Ifill.
The university said it is grateful for the assistance and continuous support provided by the staff of Voluntary Service Overseas, the National Commission on Disability and the Community-based Rehabilitation Programme. It also extends gratitude to USAID for funding these projects.
Around the Web