A Linden construction worker died on the spot on the Sir David Rose Avenue, in the vicinity of Kara Kara, McKenzie, Linden, after being struck by a car yesterday morning.
Theophilus Bentick, also known as Carl Bentick, 61, left his 1164 Central Amelia's Ward home shortly after 7am for work.
Bentick, who was riding his bicycle at the time of the accident, was struck by a motor car, PKK 3831, which was being driven by Allair Henry, who was proceeding in the same direction.
According to police, the driver said that Bentick swerved into his path and was struck down. Bentick was taken to the McKenzie Hospital, where he was pronounced dead on arrival.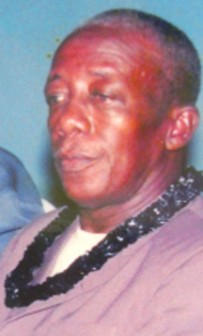 Henry, meanwhile, is in police custody assisting with the investigations.
A witness said that he was heading in the opposite direction, some distance away from the scene, when he noticed the car skidding into the corner of the road. "I thought he was going to hit the curb and end up in the trench," said the man. It was not until the man was about one hundred yards from where the car had stopped that he noticed Bentick at the road corner.
Judging from the point of impact to where the body landed, it is estimated that the man and his bicycle were pitched approximately 90 yards. Bentick's bicycle was split into several pieces, which were scattered distances apart.
Henry, also known as 'Baby,' 29, of 22 Toucan Drive, Amelia's Ward, was at the time transporting his partner, who was in the front passenger seat, and two children, who were in the back seat.
According to reports, after realizing that he had hit the Bentick, Henry left the scene. It was not clear whether he went to the hospital or immediately to the police station, but his car was left parked and he was nowhere to be found. It was not until approximately half an hour after the body was removed from the scene that police returned with Henry.
As a reporter attempted to take photographs, Henry allegedly scrambled her camera and attempted to assault her but was restrained by police. His right hand was covered with a rag and there were evidence of blood spots about the jersey of the driver.
Meanwhile, according to Bentick's wife, Joy Bentick, her husband was scheduled to be picked him up as usual by a close friend but the man did not show up.
"I don't know wah go in his head to ride this morning. I see he go outside and collect his bike and he said like Carl (his friend) ain't coming so he gon ride," the woman said, while adding that since she was taking their grandchild to school, they left together.  The woman insisted that her husband was not under the influence of alcohol when he left home. "Dat is the first thing they does want to say when big men get killed on the road but my husband was not drinking, he had he breakfast and left for work," she noted.
Later, as she was headed back home she received a long distance call inquiring if it was true that her husband had died. "I told her that that's not true, Carl just left home," she said. Several calls, however, followed, prompting her to contact her husband.
"I called his phone and the first time it ring out. The second time I called back Carl (the friend) answered," she said. She later learnt that he died.
Recounting the last moments spent with her husband, she said that while having breakfast they were looking at the television when they noticed the death announcement of a friend. "We decide that I was going to the funeral this afternoon because he not going to be home in time. Now look I have to I have arrange his funeral. I can't make it without my husband," cried the woman.
She said that they had been living together since she was sixteen years old and were now enjoying the best time of their lives together.  She recollected losing one of her sons to a similar accident in 1983 the very day another son was celebrating his birthday. "Now, Sunday coming is this one (a son) birthday and this is the gift he get," she said.
Carl, Bentick's close friend, said that he was on his way to collect him when he passed him riding down the Amelia's Ward Highway with another man. He said that he drove to the top of the hill before turning back and by the time he reached to the Kara Kara area, he saw the accident. Upon investigating, he realized it was his buddy. The man cried uncontrollably. "I don't know why he ride. He know I was coming for him," he said.
Around the Web