Vijay Seenarine, who escaped along with three other inmates from the New Amsterdam Prison on June 11, was yesterday remanded to prison by Magistrate Adela Nagamootoo.
A shackled Seenarine appeared at the New Amsterdam Court on a charge of lawful custody. The charge stated that Seenarine, while being incarcerated at the New Amsterdam prison on a charge of carnal knowledge, escaped from the said prison. He was not required to plead and was remanded until July 29.
Seenarine was arrested last week after police found him walking along a street in Corentyne, Berbice.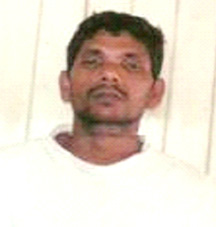 Police said that he was nabbed as he was walking along J.C. Chandisingh Road in Rose Hall. Police, according to a statement, said they were able to locate the escapee based on information received.
Meanwhile, Rickford La Fleur of Circle Street, Skeldon; Kevin 'Long Hair' Narine of Number Seven Village, West Coast Berbice; and Vinood Gopaul of Yakusari, Black Bush Polder are still on the run. Gopaul, who was charged with murder, was among 18 prisoners who had broken out of the same prison in 2007.
The search by the Joint Services for the remaining escapees is continuing.
The men reportedly removed boards from the northern section of the wall in the male block of the prison and then ripped out zinc sheets from the eastern side of the fence to make the daring getaway.
Around the Web