The employee of the city business who was held after reports surfaced that he had demanded that 72-year-old Clementine Fiedtkou-Parris leave her home just days before she was brutally gunned down, has been released.
A police source yesterday confirmed that the young man who is also a relative of the owner of the city business was released late Friday night. The young man had spent less than 24 hours in custody at the Alberttown Police Station.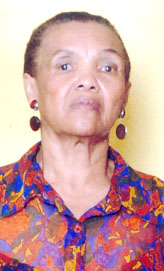 This newspaper was told that investigators were forced to release him after nothing linking him to last Thursday's murder was found. The source said investigators are still convinced that a bitter court dispute over the woman's property was the motive for the killing. The source stressed that the police have nothing else to go on at the moment.
Police sources had said that the woman's property was the centre of a bitter court battle between her and the business. Stabroek News was unable to contact officials of the business.
Stabroek News was told that information gathered so far is that someone pretending to be the owner of the woman's property sold it to the city business several years ago. When Fiedtkou-Parris discovered what had been done, she moved to the court and the case was decided in her favour about two weeks ago.
She was scheduled to collect some documents regarding her win some time this week. A source had told this newspaper that recently an employee of the business went to the home and demanded that the elderly woman remove since the house belonged to the business. The employee even told the woman that the business was willing to pay her rent. However, the woman refused to leave her home.
It was following the incident that a relative informed police of this and the employee was arrested immediately. However he denied that the conversation occurred.
Fiedtkou-Parris was shot by one of two men who visited her Lot 42 Robb Street home and enquired for her around 7:45 pm, police said. As she came out of her bedroom, she was shot several times to the upper part of her body. The men then jumped into a waiting car while the injured woman was rushed to the Georgetown Hospital, where she was pronounced dead shortly after.
Reports are that two men were seen circling the area in a grey car in the days leading up to the shooting.
Around the Web