Prime Minister of Barbados Freundel Stuart says  there is encouraging progress in the free movement of skilled persons and goods in the region and he urged an end to the unwieldy agendas at the summit of Caricom Heads in favour of the "simplicity of serious intellectual discourse".
In his maiden Caricom speech on Friday at the opening ceremony of the 32nd Conference of the Heads of Government in St. Kitts and Nevis, Prime Minister Stuart, who is the  lead Head for the CSME,
said that "Despite insurmountable odds, we can be satisfied that we have also made significant headway on the most complex, painstaking and perhaps the most misunderstood part of the integration project, the Single Market and Economy."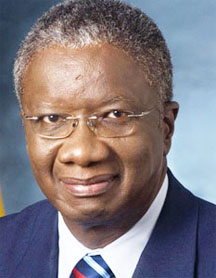 He also noted that  according to the CARICOM Trade and Investment Report 2010, intra-regional imports grew by 92% between 2004 and 2008 and intra-regional exports grew almost 200%,  according to a release from the CARICOM Secretariat at Turkeyen.
However, he noted that the Single Economy remains a work in progress.
He pointed out that "While recent negative events have revealed the high degree of financial interdependence that already exists in our region we cannot pretend that our efforts at macroeconomic convergence have reached the point that would allow us to create and, more importantly, to sustain a Single Economy."
According to Prime Minis-ter Stuart, the current turmoil in the Eurozone and elsewhere has injected a dose of sober realism into the region's discussions. "Ultimately we have come to accept that the existing timetable is not achievable. For Heads of Government to set yet another tenuous deadline in so volatile an environment, would be highly irresponsible and an insult to the intelligence of our people.
But by no stretch of the imagination should this decision to postpone be interpreted as an abandonment of the ultimate goal. Indeed, I expect that the renewed and highly commendable efforts of the OECS States towards Economic Union will contribute significantly towards our wider effort within the CSME," Stuart was quoted as saying.
Towards the end of his presentation he said that having attended two conference of heads and listened to his colleagues his sense was that to sharpen their focus "there must be a whole re-ordering of the way the Caricom machinery does business", beginning with the conference of heads.
"When we get past the pomp and pageantry of Sum-mitry, we must dispense with unwieldy agenda, eschew the copious reports and lengthy presentations and get back to the simplicity of serious intellectual discourse".
He further argued that meetings should revolve around matters that are ripe for decision. "Our discussions on these central topics should be informed by policy papers produced, with an intellectual rigour worthy of our founding fathers, by a broad range of thinkers not tied to any agenda and not afraid to speak truth to power", Stuart declared.
Decisions, he added, must be clear and concise and in unambiguous language. "We are fast learning that how we record and enforce what we decide bears legal consequences that a very competent and proactive Caribbean Court of Justice is always ready to point out", the PM assrted.
Stuart who was appointed PM upon the death of David Thompson earlier this year, said a way has to be found to strengthen and resource the Caricom Secretariat "so that it no longer has to rely on the generosity of external donors for 58% of its budget, and so that some of its more senior and highly talented staff can be freed to focus less on the routinized and more on the creative".

Single Market
On an optimistic note, he contended that the structure of the Single Market is now firmly in place and operational in terms of the rights of establishment and the free movement of goods, services, capital and the ten categories of skilled persons.
The growth was erratic and unevenly distributed among the membership, he said, but it is nevertheless a base on which the region can all build.
"Increasing our trade in agricultural products could contribute significantly to correcting that imbalance while enhancing regional food security, but only if we can first resolve the long-outstanding phytosanitary and transport impediments," Stuart asserted.
Movement of
skilled persons
He also observed  that there has been significant headway with regard to the movement of skilled persons, "especially when one considers the scope of the legal and administrative changes required and the obvious technical, human and financial resource constraints we all face in implementing this complex undertaking."
He went on to point out that for more than half a century the matter of freedom of movement has had the unfortunate tendency to inflame passions throughout the region.
He said that lately Barbados has been at the receiving end of "emotive and highly inaccurate rhetoric" on this issue and he therefore welcomed  the opportunity to bring some perspective to it.
According to Stuart, Barbados is fully compliant with its CARICOM obligations with respect to the free movement of the ten categories of workers specified in the Revised Treaty of Chaguaramas and subsequent decisions of Heads.
"This is not my subjective view. Rather it is based on the findings of the Secretariat Appraisal Report. We are one of only three members which have thus far set up the required National Accreditation Councils to certify and verify the requisite skills," Stuart said.
He also disclosed that from 2006 to the end of 2010 the Barbados Authorities have issued 725 Skills Certificates to CARICOM nationals from the twelve CSME participating member states, including their own, and have verified over 1500 such certificates.
Since the inception of the regime to the end of 2010, 1777 persons have been granted Indefinite Stay in Barbados and 77 persons have moved under the rights of establishment category, Stuart disclosed.
These figures do not include those dependents who accompany the primary movers, he added.  And on a case-by-case basis, he said, "we continue to accept for employment in Barbados CARICOM nationals who fall outside the 10 agreed categories, as evidenced by the granting of 36 long stay and 1,577 short stay work permits last year alone. In 2010 173,106 CARICOM nationals were admitted into Barbados while only 651 or 0.3% were refused entry."
He declared that his country  has been totally frank with its  CARICOM colleagues in assessing that while they  support the ultimate goal of complete unrestricted freedom of movement, they "can only hope to attain it through a phased and managed approach which does not strain the absorptive capacity of those countries which are the principal recipients and produce severe skills deficits in those which are the principal exporters."
"We have also been frank in our concerns about the matter of contingent rights, the absence of the notion of bilateral reciprocity in the discussions thus far, and the need to recognize that the lack of standardization of offer with regard to social services is a major difficulty.
"We are very aware of the experience of other jurisdictions where rights-shopping is a growing phenomenon, and where location choices are heavily influenced by the level of state subsidy and the calibre of the social services offered to the skilled worker and his family."
In CARICOM's case, Stuart argued,  it is not even a proven assumption that increased economic activity through wage earnings, spending and taxes will offset the social outlay of the recipient country.  In fact early trends suggest, he contended,  that the greatest movement is taking place among the lower skilled, lower paid wage earners.
"If the regime is to work, and to work well, how we address these disparities in the contingent rights debate and how we monitor the socio-economic consequences for both sending and receiving states will be crucial.
Noting concerns among some "armchair pundits" about stagnation and paralysis in the region, the Barbados PM quoted the words of the late Guyanese President, Desmond Hoyte in 1987 who said "when critics assert that we are making no progress, I suspect that they are really complaining that they have seen nothing spectacular. But developments that are worthwhile, that are likely to be sustained, are usually never dramatic; they tend to come incrementally, quietly, and very often imperceptibly".
Stuart later added: "We must all accept that the regional integration effort is an evolutionary process. Its momentum varies according to the terrain that lies ahead. It falls to us as leaders to judge the pace and move accordingly, to focus on what is presently achievable, and then act to get it done."
In the meantime Stuart assured that his government remains unequivocally committed to the pursuit of Caribbean integration.
"The building of a truly West Indian Nation is as much a priority for me as it was for my distinguished predecessors.  I pledge to remain true to their legacy."
Around the Web