Child abuse has become a major problem and the region must take urgent measures to protect the most vulnerable ones in the Caribbean Community, says  Desiré Delano Boutérse, President of Suriname.
Addressing the opening ceremony of the 32nd Meeting of the Conference of Heads of Government of the Caribbean Community in St Kitts and Nevis, President Bouterse told his colleague Heads of Government that his country had established a task force in an effort to combat and prevent child abuse in Suriname, said a press release from the CARICOM Secretariat at Turkeyen.
This Task force, he stated, would coordinate all government institutions that deal with children and advise on concrete steps to implement the provisions of the Convention on Rights of the Child.
He stressed the need to strengthen the CARICOM Youth Ambassador Pro-gramme at both the national and the regional level as one means of addressing child abuse and advocated for the conference to make this issue a priority on the regional development agenda.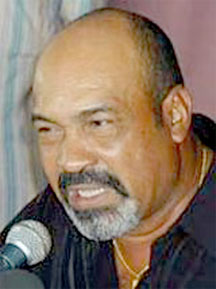 "I urge my colleagues to support these youth leaders who soon will have to carry forth our work. Investing in youth means securing a future in which society at large will prosper," Bouterse  is quoted as saying.
CARIFESTA in 2013
Meanwhile, Bouterse, who also has portfolio responsibility for Culture and Commu-nity Development including Gender, Youth and Sport in the Quasi-cabinet of the Conference, announced that Suriname would host the 11th Staging of the Caribbean Festival of Arts (CARIFESTA) in 2013.
The last CARIFESTA was hosted by Guyana in 2008 and since then the region has not been able to host another festival.
"We have a diverse culture and heritage which we must protect and develop. We acknowledge that culture is an important vehicle in achieving our socio- economic objectives," he asserted.
The newly-elected Presi-dent of Suriname also called on CARICOM to elevate sport development on its agenda, noting that sport was not just recreation and entertainment, but a vital element in fostering a healthy and harmonious community.
In light of this he mentioned that Suriname had established a Regional Sports Academy, which would give Surinamese youth all the opportunities to channel their talents for the good of themselves and society at large.
This Academy, he said, would serve not only the CARICOM Member States, but neighbouring countries as well, the release added.
Around the Web